Jump to navigation
Jump to search
To complete Mappy-Land, you must complete 4 worlds, with 8 stages per world, for a combined total of 32 worlds. Throughout a majority of the stages, all that you are required to do is collect six items, and exit through the right side of the stage. In some stages, you are required to perform an additional task such as collecting an item from the inside of a building in the stage, before being permitted to advance to the next stage. Some stages also include access to bonus stages.
Bonus Stages
[
edit
]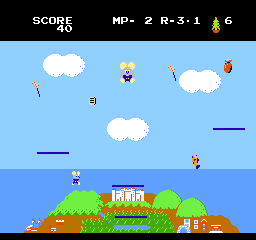 Two stages per world provide the player with access to a bonus stage. Specifically, they are 1-2, 1-5, 2-3, 2-7, 3-1, 3-8, 4-2, and 4-7. In order to access the bonus stage, Mappy must not be storing any distraction items. If he is free of all items, he must proceed to jump on one particular trampoline three times without pressing any of the controls. If he jumps on the correct trampoline three times, instead of falling down when the trampoline turns red, he will be launched into a bonus stage with a couple of moving trampolines. Here, he can collect a number of distraction items, as well as gaining the unique opportunity to collect a 1-Up icon. The bonus stage is over as soon as Mappy falls through the bottom of the screen.
Stage progression
[
edit
]
The following table indicates each of the special properties of each stage, including the following information:
The location of the particular item which, when collected first, multiplies the value of each item collected by five, counted as the number of items from the left side of the stage
The particular trampoline which provides access to the bonus stage, if applicable.
The extra steps required to complete the particular stage, if applicable.
World 1
World 2
World 3
World 4
Stage 1:

Train Yard

5x: Item 3
5x: Item 3
5x: Item 3 (lower)
Bonus: 1st Trampoline
Exit: Collect ticket inside coach after collecting 6 items.
5x: Item 4
Exit: Collect ticket inside coach after collecting 6 items.
Stage 2:

Old West

5x: Item 2
Bonus: 4th Trampoline
5x: Item 4
5x: Item 3
5x: Item 5
Bonus: 2nd Trampoline
Exit: Collect map inside bar after collecting 6 items.
Stage 3:

Island

5x: Item 4
5x: Item 3
Bonus: Upper-right Trampoline from start point.
Exit: Collect torch inside hut after collecting 6 items.
5x: Item 5
Exit: Collect torch inside hut after collecting 6 items.
5x: Item 6
Exit: Collect torch inside hut after collecting 6 items.
Stage 4:

Jungle

5x: Item 4
5x: Item 5
5x: Item 6
Exit: Collect clover from cave, then collect the items.
5x: Item 2
Exit: Collect clover from cave after collecting 6 items.
Stage 5:

Pirate Ship

5x: Item 2
Bonus: Upper-right Trampoline from start point.
5x: Item 2
5x: Item 4
5x: Item 6
Exit: Collect pliers from ship hold after collecting 6 items.
Stage 6:

Graveyard

5x: Item 4
Exit: Collect cross from church after collecting 6 keys.
5x: Item 5
Exit: Enter mansion and exit through door above Nyamco after collecting 6 keys.
5x: Item 3
Exit: Enter mansion and exit through door above Nyamco after collecting 6 keys.
5x: Item 6
Exit: Collect cross from church after collecting 6 keys.
Stage 7:

City

5x: Item 3
5x: Item 3
Bonus: 3rd Trampoline
Exit: Enter 2nd building and collect trumpet after collecting 6 items.
5x: Item 5
5x: Item 4
Bonus: 2nd Trampoline
Exit: Enter 2nd building and collect trumpet after collecting 6 items.
Stage 8:

Castle

5x: Item 4
5x: Item 4
5x: Item 4
Bonus: Upper-right Trampoline from start point.
5x: Item 5