Jump to navigation
Jump to search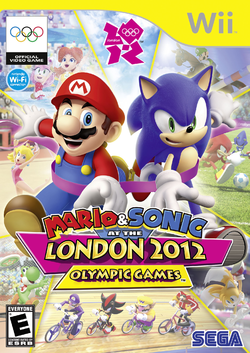 For the Nintendo 3DS port, see Mario & Sonic at the London 2012 Olympic Games (Nintendo 3DS).
Mario & Sonic at the London 2012 Olympic Games is a 2011 sports video game developed by Sega Japan. It was published by Nintendo for Japan and by Sega for North America, Europe, and all other regions. The game is officially licensed by the International Olympic Committee (IOC) through exclusive licensee International Sports Multimedia. It is the third installment in the Mario & Sonic series after the commercial success of its predecessors and is an official video game of the 2012 Summer Olympic Games. The game was released on the Wii on November 15, 2011 in North America, November 17, 2011 in Australia, November 18, 2011 in Europe and December 8, 2011 in Japan. The game is the first to come in a yellow keep case instead of a standard white case, similar to how New Super Mario Bros. Wii was the only game to have a red keep case.
Mario & Sonic on the Wii is a collection of numerous events based on the Olympic Games. Players can assume the role of a Nintendo or Sega character while competing against the others in these events.
Table of Contents