From StrategyWiki, the video game walkthrough and strategy guide wiki
There are nine 1-vs-3 Mini-Games in Mario Party 4, one of which is a coin-collecting bonus game. These Mini-Games occur on boards whenever one player lands on a different-colored space than all the other players.
Blame It on the Crane
[
edit
]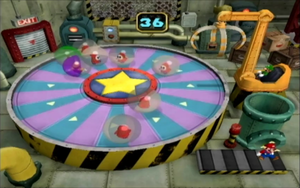 As the solo player, you should start the crane when there is a player about a 1/8 turn away from you if they're on the outside or a 1/6 turn if they're on the inside edge. You may want to experiment with starting it a little earlier or later depending on how the players act around the dangerous stretch.
As a member of the team, you'll want to expose yourself to the crane as infrequently as possible. Run against the flow of the platform whenever you're a decent distance away from the crane. As you approach the crane, start running with the flow of the platform to (hopefully) dodge the crane.
Candlelight Flight
[
edit
]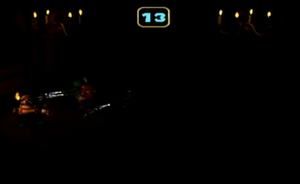 As the solo player, you'll want to never stop moving. There is a slight lag between when a team player presses

and when their gun fires, and if you don't stop, you can avoid even close-range fire. Avoid the very middle and the edges, as it's easy to get surrounded here. Your torch will only go out after being hit a fifth time.
As a member of the team, you'll want to stay near enough to the solo player so that you are visible. Whenever you take a shot, aim for slightly in front of them, so that they'll get hit even with the delay. If you don't know where you are, shoot your gun and you will be temporarily illuminated. Just keep firing at the solo player.
Fish n' Drips
[
edit
]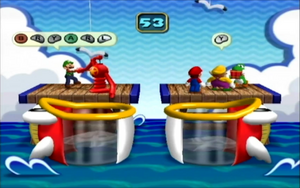 As the solo player, your top priority should be accuracy. If you press an incorrect button, then you have to start over on that group of six buttons. Even going at a more moderate pace, you should be able to beat the team.
As a member of the team, speed should be your priority. The solo player has an advantage; even though they have to press more buttons, there's less lag time that the team faces while passing the bucket. The penalty for pressing an incorrect button is only about one second, but too many will cost you the game, so don't get reckless.
GOOOOOOOAL!!
[
edit
]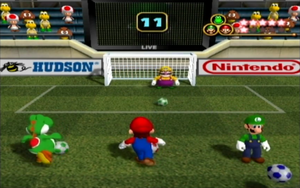 As the solo player, you can only afford to let in about 1/3 of the shots. Many shots will miss even if you don't block them, so don't even try to intercept shots to the far left or far right. Dive only when you're trying to block the last shot out of a group; otherwise, it leaves you very vulnerable to other shots.
As a member of the team, you want to coordinate with your teammates, making this game a lot easier if you're playing with humans. Try and launch your shots simultaneously and in different directions, so the solo player can't block them all. Sometimes, try shooting a ball to the far side, outside of the goal, in the hopes that the solo player will chase after it.
Hide and Go BOOM!
[
edit
]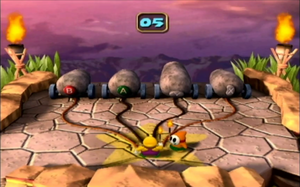 This game is almost entirely luck-based when played with computers. Just go with your gut instinct and hope for the best. With human players, try and get inside the other people's heads. As a member of the team, you can try to fake out the solo player by picking a cannon while onscreen then picking another one when you're offscreen. The team has a slight advantage in this Mini-Game.
Hop or Pop
[
edit
]
As the solo player, go after one opponent at a time. To change directions quickly, jump and switch the

to the direction you want in mid-air. You're slightly faster than your opponents, and you can catch them if you're persistent enough.
As a member of the team, jumping with good timing is crucial. The only chance you have of dodging the solo player is by doing a successful triple jump, where you jump immediately after you land. Make sure to stay away from your teammates, as they can accidentally bump you in the wrong direction.
Makin' Waves
[
edit
]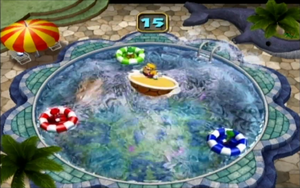 As the solo player, you have the much easier job. Simply move to whichever side is highest to level out the shell, then return to the middle. Frequently, your opponents' attacks will only cancel each other out, and you won't have to move at all. Just be careful not to stay too long on one side.
As a member of the team, you need a lot of luck to get a victory in this game. One of the best strategies is for two players to pair up and make waves, while the third player makes waves that go perpendicular to those. Absolutely do not ground pound while in the starting formation because the waves will cancel each other out.
Money Belts
[
edit
]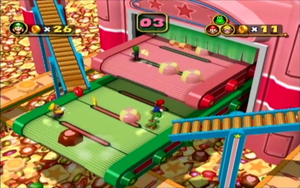 As the solo player, your biggest advantage is that you get the first shot at all your coins. Make your top priority not falling, as this could easily cost you 3 or 4 coins. Go after the Coin Bags whenever they appear, as one Coin Bag is generally worth more than all the coins you'll miss by falling.
As a member of the team, make your top priority getting coins. If the solo player is good, there may be only five or six coins for the team, so you don't want to miss any of them. Even if you fall, you have teammates who will collect the coins that you missed. To avoid obstacles, run up to the very front of the conveyor belt you are standing on. This will put you in front of the obstacles that come on from the side conveyor belts.
Tree Stomp
[
edit
]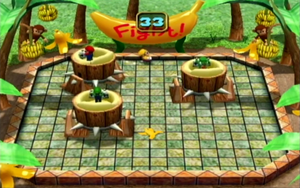 As the solo player, you have a very difficult task. You're faster than the other players except when one of them gets a golden banana. You'll want to get to these before them, but be very careful once you have been sped up. It's much easier to accidentally run into a member of the team when you're moving that fast. Whenever possible, lead them into the regular banana peels or into each other, as these will make them fall temporarily. When running near your opponents, go by their side, since their machines only go forward and backward.
As a member of the team, there are three good ways to get the solo player. One is to surround them. This works well when you have two or more humans on the team, as they can communicate with each other on where to go. Another is to get a golden banana and chase them down. You move slightly faster than they do and can simply outrun them. Just be careful that you don't crash into a teammate. The final way is to chase them into a banana peel. This will stun them for a second, which should allow you to get them or at least get closer.