Jump to navigation
Jump to search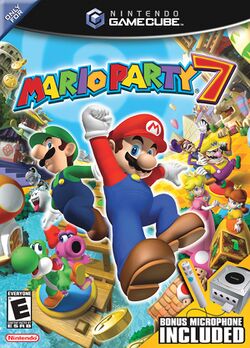 Mario Party 7 (マリオパーティ 7, Mario Pāti Sebun?) is the seventh in a series of board game style video games for Nintendo platforms and is the fourth and final title that appears on the Nintendo GameCube in the Mario Party series. Mario Party 7 features popular Nintendo characters. It was released on the Nintendo GameCube in North America on November 7, 2005, in Japan on November 10, 2005, in Europe on February 10, 2006, and in Australia on June 8, 2006. It features 58 new minigames. This game's host is Toadsworth, Princess Peach's longtime steward. It also makes use of the microphone peripheral introduced with Mario Party 6, which can be used in 10 minigames. This game also includes six entirely new worlds, with one unlockable. Mario Party 7 is followed by Mario Party 8.
In Mario Party 7, there are 10 characters returning from the previous installment (that being Mario, Luigi, Peach, Daisy, Wario, Waluigi, Toad, Toadette, Yoshi, and Boo). So you can play as Mario, Luigi, Peach, Daisy, Wario, Waluigi, Toad, Toadette, Yoshi, and Boo. However, there are two new playable characters in the game. Both of them are unlockable characters. The new and unlockable characters are Birdo and Dry Bones. Altogether, there are twelve characters (10 starters and 2 unlockables). In this game, there are six playable boards (5 starters and 1 unlockable). You, the Player, must use orbs and mushrooms, wild rides on chain chomps, flights on huge flowers, secret passageways, and luck to purchase, steal, defend, and retrieve the most stars and coins to become the superstar.
From the back cover:
"A fun-filled cruise around the world has turned into a vacation nightmare! Join Mario, Luigi, and the whole gang as they try to stop Bowser from ruining their party!"
Artwork
[
edit
]
Table of Contents