From StrategyWiki, the video game walkthrough and strategy guide wiki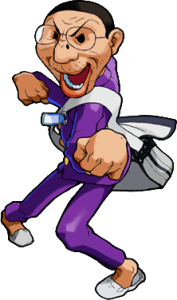 He is in the bottom center space in the Japanese and in the Saturn version; it is replaced by an unselectable logo in the American PlayStation version. He portrays a nerdish, cowardly schoolboy-type guy armed with a camera; who throws common school items, mini-Akuma dolls, and plushies as fireballs; and would attempt to ask for his opponent's autograph mid-battle (can be seen when the player presses the START button during a match). But despite this comic relief facade, he is a pretty decent character to play with, and has some of the most powerful moves in the game. Based off Noritake Kinashi, Japanese comedian.
He is a silly otaku from Japan, who is quite fanatic about Chun-Li. It is unknown what his true intentions were, but it is believed that he entered the competition to be able to take pictures of her and probably the superheroes as well (he also seems to be aware of the fact that they originated from comic books, noting that Apocalypse "seems bigger in the comic"). Due to cultural differences, Norimaro was not supposed to be available in the American version of Marvel Super Heroes vs. Street Fighter and the code that would have him a playable character was actually locked out in the programming if the game was set to the United States region. However, ROM files of the game proved that Norimaro was in fact originally planned to be available since all of his dialogue was translated to English. Although not available to be played in the US version he can still be seen in the first gallery picture in the game.

| Name | | Input |
| --- | --- | --- |
| Double Jump | | |
| Downward Spinning Kick | or + | |
| Super Fantastic Treasure | + | |
| Great Fighting Jump | + | |
| Powerful Rolling Arms | + | |
| Hyper Strong Miracle Treasure | + | |
| Ultimate Grand Champion Jump | + | |
| Ultra Variety Private Memories | + | |