Jump to navigation
Jump to search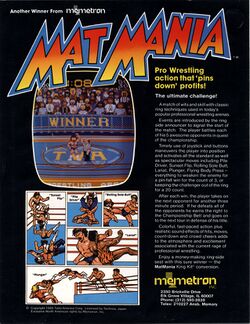 Mat Mania, released as The Pro Wrestling Network: Exciting Hour in Japan, is a Japanese pro wrestling-themed arcade game developed by Technos Japan and published by Taito in 1985. The game is played by one or two players (alternating in turns). It is recognized among game enthusiasts as the first of the genre to have achieved a high level of playability. Further, the game aesthetics, sprite concepts and design, in-game theme music, and comical presentation have lent well in preserving it as a beloved arcade classic.
The game is presented in the guise of a televised pro-wrestling broadcast, the Taito Wrestling Association. The intro sequence and subsequent intermissions portray a disheveled pro-wrestling host, Cory (Nari in the Japanese version). His hair is unkempt and his sleeves rolled up as he manically announces the particulars of the upcoming bout.
The player-controlled wrestler makes his way through the ranks of the TWA, combatting various thematically colorful opponents, before finally challenging the champion, in the 5th match. Upon ascending to the championship, the player-controlled wrestler is presented with a Championship belt in a presentation ceremony. The player-controlled wrestler must then defend the title against the previous 5 opponents, drawn at random.
Home conversion
[
edit
]
In 1990, Atari released an Atari 7800 version of Mat Mania titled, Mat Mania Challenge, developed by Blue Sky Software. This version was faithful in some aspects like graphics and controls. However, it was reviewed poorly by most magazines and game players, because it was missing all the villain characters (due to the amount of low memory Atari cartridges were known for). Atari described this version as a mix between Mat Mania and Mania Challenge as this game features both Dynamite Tommy and Hurricane Joe. A version for the Atari XE Game System was also planned but was never released.
Table of Contents