Jump to navigation
Jump to search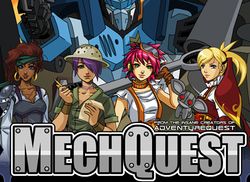 Neoseeker Related Pages
Links
MechQuest (often abbreviated to MQ), is a free online browser-based single player sci-fantasy RPG developed by Artix Entertainment. The game is currently up and running. It is implemented in Adobe Flash and uses anime-style graphics, some of which are animated. The authors have described the game as a cross between: Star Wars, Robotech, Harry Potter, Escaflowne, Voltron, Gundam, and Evil Dead II.
Each account may have up to three characters, although Star Captains (paying players) may have up to six. The game allows players to engage in turn-based combat against mechas or humanoids to accumulate experience points and credits (in-game currency). Characters have a combat level and six stats to train. Players may use credits to purchase upgrades for their mecha or new mechas.
The story revolves around the player's mecha pilot, flown in to attend G.E.A.R.S. University - a rigorous but prestigious university founded to help students improve in combat skills. It takes place in the same planet or galaxy as Lore, the locale of Artix Entertainment's other three games.
Table of Contents