Jump to navigation
Jump to search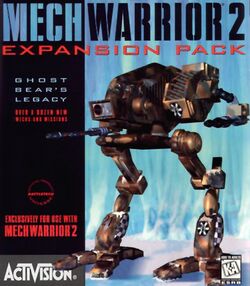 MechWarrior 2: Ghost Bear's Legacy is an expansion to the popular MechWarrior 2: 31st Century Combat. It adds a third story arc of 17 missions centering around the titular Clan Ghost Bear, as well as 14 new mechs. This story arc takes place shortly after the events of the first game.
It was followed in 1996 by MechWarrior 2: Mercenaries, this time a standalone game not requiring the original.
Unlike the other two games, Ghost Bear's Legacy was not available in an enhanced "Titanium" form until MechWarrior 2: The Titanium Trilogy.
Table of Contents