Jump to navigation
Jump to search
Items dropped by enemies
[
edit
]
E-capsules
W-capsules
Bolts
1-ups
Auto's shop
[
edit
]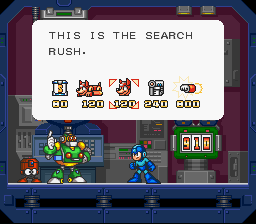 Press

on the stage selection screen, and you will access Auto's shop.
There is little need to buy any items, except for W-cans. The rest of the items can be found for free in stages.
Item
Price
(normal)
Price
(hyperbolt)
Free location
Effect
1-Up
40
20
(Many stages)
extra life
E-can
60
30
(Many stages)
Completely refills Mega man's energy
W-can
100
50
Wily stages 3-4
Completely refills all weapons energies
Exit unit
200
100
Freeze stage
Allows to exit from a previously cleared stage
Beat's whistle
80
40
Slash stage
Beat saves you from a pitfall
Hyperbolt items
S-can
-
80
Wily stage 3
Completely refills all Mega Man's and all weapons energies
Rush Jet
-
120
Junk stage
Allows to fly forward
Rush Search
-
120
Freeze stage
Digs for hidden items
Energy Balancer
-
240
Shade stage
Allows to restore weapon energy to unequipped weapons
Hyper Rush Punch
-
800
Turbo stage
Upgrades the Super/Hyper[1] Rush Adaptor.
↑ Hyper and Super are alternate spellings of the same word in Greek and Latin, respectively.
Item locations gallery
E-tanks location gallery
Rare items
[
edit
]
These items cannot be purchased in Auto's shop:
Rush's R-U-S-H plates
Auto's Hyperbolt
Beat
Proto Man's Shield
Rush Search spots
[
edit
]
Use Rush Search in nine locations to find rare items:
Cloud Man: Mega-Bolt
Junk Man: Mega-Bolt
Freeze Man: Exit Unit
Spring Man: Mega-Capsule, Mega-Bolt
Shade Man: Energy Balancer, Mega-Bolt
Turbo Man: Homing Rush Punch, Mega-Bolt
Each Mega-Bolt is worth 100 Bolts. The Mega-Capsule simply refills all of Mega Man's life energy.
Items per stage
[
edit
]
Stage
Cans
Items to find
Rush Search
Proto Man
Burst Man
E-can 1
Rush "R" plate
-
-
Cloud Man
-
Rush "U" plate
Mega Bolt
Proto Man (1)
Junk Man
-
Rush "S" plate, Rush Jet
Mega Bolt
-
Freeze Man
E-can 2
Rush "H" plate
Rush Search, Exit Unit
-
Slash Man
E-can 3
Beat
-
-
Spring Man
E-can 4
Auto's Hyper Bolt
Mega Capsule, Mega Bolt
-
Shade Man
-
-
Energy Balancer, Mega Bolt
Proto Shield (3)
Turbo Man
E-can 5
-
Homing Rush Punch, Mega Bolt
Proto Man (2)
Wily Castle
Wily Castle 1
E-can 6
-
-
-
Wily Castle 2
-
-
-
-
Wily Castle 3
E-cans 7+8, W-can 1
S-can
-
-
Wily Castle 4
W-can 2
-
-
-