Jump to navigation
Jump to search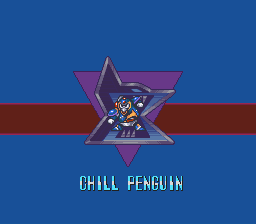 Chill Penguin is the preferred choice for beginning players. He is the stage boss with the easiest difficulty to defeat, using a simple attack pattern you can memorize and react to with little effort on your end.
Aside from a few slippery patches of ice and floor gaps in the more rundown areas of the base, there's not much danger to behold here. This stage is also ideal to tackle first because it is the only one that houses an armor upgrade capsule out in the open. Since the upgrade is a "freebie", you can obtain it without having to go on a manhunt, and it will aid you greatly throughout the later stages. This level is a little soft, but don't worry, you'll still probably take a beating somewhere in this stage.
Snow Mountain, part 1
[
edit
]
The first enemy you'll face off against is a... rabbit?!
The enemy count is low here because Chill Penguin's outpost has fallen into ruin from disuse and was discarded. Whoever thought an Arctic base would be useful had the wrong idea at the time. Not as many Mechaniloids are necessary to defend such a low-priority place, but the missile stock inside the abandoned base located in the mountains was important enough to have some machines on guard to keep it safe.
You'll soon come across an Axe Max.
Watch out for the Bomb Beens!
You'll soon run into a cave full of Batton Bone bats and Spikys, spiked wheels.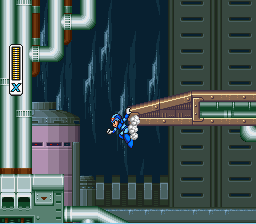 There is a tricky jump on the second level going up to the third; try to jump off the exact edge of the step and make sure to wall jump when your arm touches the edge of the platform.
Dr. Light's capsule
[
edit
]
When you reach the top of this area, you'll discover a peculiar machine positioned in the way of your destination. Take a few steps forward for a surprise...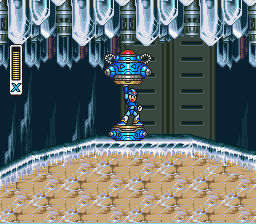 The capsule has transported a Foot Parts upgrade to X, now allowing him to dash! Tap

while moving, and X will perform a dash. You can use this to gain a burst of speed and also better your dodging abilities. If you dash and press

, X will leap into the air much faster than an ordinary jump and be able to clear a larger distance. Try out your new gift by practicing the dash jump by dashing, and then jumping over the nearby pits in the icy floor. Simple, isn't it? But beware: there's no way to continue onward from the capsule without using dash jumps. The floor might make for some clumsy movement, but you can use the slippery landscape to propel you forward even faster! If you get good at dash jumping, you'll be able to zoom through levels and avoid enemies and projectiles better.
Snow Mountain, part 2
[
edit
]
Near the exit of the cave are some Flamingles.
Head out of the cave and once again into daylight! Well, not for long. You'll soon be trekking into a second section of the decaying base. Lucky for you, there is an abandoned suit of Ride Armor sitting in the snow, just waiting for a pilot to take control of it. You've already seen what Vile can do with on; how would you like to be the one with the mighty battle suit for once? Well, you finally can! Hop into the Ride Armor. Use the D-pad to control its movements,

to jump high into the air, and

to sling punches with its big fists. The Ride Armor is quite durable, but if you let it get heavily damaged, it will malfunction and overheat. You'll notice when it happens: you'll be unable to control the mech suit and it will start flashing. If it does, bail out right away! That mecha's gonna blow up on you! Press

+

and run away to avoid being hit by the blast radius. If you lose the Ride Armor or it explodes, you can always backtrack to where you first found it and it will reappear.
Take command of the Ride Armor and advance through the base ruins. It's capable of demolishing the igloo-shaped domes in the mountains, some of which are actually releasing dragonfly robots, Tombots.
At some point, you can use the armor to jump up onto a higher section of roofing from a crumbled part of the base, but to reach it, you'll have to dismount at the height of the jump and continue on foot by wall-kicking off the side to get to the top. You can avoid some Tombots and an Armor Soldier this way. Take notice of the igloo domes up here. You're not able to destroy them, now that the Ride Armor is gone, but when you obtain Flame Mammoth's weapon, Fire Wave, you won't need the armor to do the job. One of these domes hides a Heart Tank upgrade, a small pink item shaped like a heart. You'll need to use the Fire Wave to destroy the right dome and expose the Heart Tank. It will expand your life bar by two units. One Heart Tank is hidden in every one of the eight Maverick stages, letting you raise your life bar to a maximum of 32 hit points, doubling it from the initial 16.
If you have grown fond of the Ride Armor, you might opt for the lower path and pass through the broken room below. Watch out for gaps! If you have to, you can always bail by pressing

+

.
You can decimate most of the minor stage enemies with little sweat inside this suit, but sooner or later, you're bound to run into the dreaded Armor Soldier.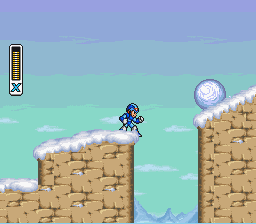 You'll run into a large blue wall soon after passing by it. The Ride Armor can't jump over this wall, forcing you to eject and leave it behind. Once you reach the far end of the cave, hop out of the mech and climb up the cliff.
You'll have to face off against rolling snowballs and the culprits of these incoming attacks, Snow Shooters, snowball throwing robots.
After you reach the top of the slope and defeat the final Snow Shooter, step through the vaulted door lock to face the first real boss.
Maverick boss: Chill Penguin
[
edit
]
One of the easiest bosses of the game, Chill Penguin should only be able to damage you if you make a mistake like jumping in the line of fire. The best way to beat him is to let off a fully-charged X-Buster shot once you enter the room, then quickly scale the wall and continue to jump in the corner, as shown in the pictures. When you're in this spot, Chill Penguin will continue to launch attacks.
Although he's one of the Mavericks that reacts well to the X-Buster, he does sport some defenses. Anything made of ice (his decoys and shots) will deflect shots, and he's invincible while sliding.
He can do a variety of physical and projectile attacks. His most basic attack is to shoot a series of ice pellets at you. Some he'll shoot straight across at you at speed, others he'll send at a slower speed along the floor to throw off your timing. Since the pellets block shots, it's hard to get a hit on him here, but he tends to pause after a salvo, so once you clear the last pellet, send a shot at him.
His other projectile attack is to blow freezing breath in front of him. This is both offensive and defensive, as the two ice decoys he produces with this breath can both block shots and damage you if you hit them. Furthermore, if you're careless enough to get within range of his freezing breath, X's legs will become frozen to the floor, leaving him unable to move until he's broken free with a hit.
Every so often, Chill Penguin will leap up and grab the hook at the top of the room. When he pulls it, a blizzard briefly envelops the room. This won't hurt you, but it'll push you and any ice decoys in the room in the direction he's facing. Remember, decoys hurt you on contact. Chill Penguin is vulnerable both in midair and while he's hanging off the hook.
Chill Penguin isn't afraid to slam into you. His most basic physical tactic is to slide into you along the icy floor. This also happens to clear any decoys already in play. He's invincible while sliding but vulnerable once he stands back up.
Sometimes, Chill Penguin will just leap straight towards you. If you see him leap in an arc that doesn't take him to the hook at the top of the room, quickly dash under him, then turn around and get him as he's coming back down.
Refer to the strategy above and you'll defeat Chill Penguin easily.
Also note that his weakness is to the Fire Wave, which stuns him momentarily as he's covered in flames. This is handy for when you meet him gain in Sigma's fortress.
Special weapon
[
edit
]
X's Variable Weapons System will now copy the Maverick's signature weapon and bestow him with a new ability: Shotgun Ice! This shoots a single blast of ice that shatters on impact, spraying five shards of ice that do the same amount of damage as the first projectile backwards. You can shoot this against walls to spray projectiles towards your enemies from various directions.
When you obtain the X-Buster upgrade, you can charge Shotgun Ice to a second level and it will make a snowboard in the shape of Chill Penguin that you can ride for a while and send crashing into enemies.
Victory effects
[
edit
]
After defeating Chill Penguin, Flame mammoth's factory stage will be affected. All floors covered in harmful molten metal will cool down, and will become safe to walk.