Jump to navigation
Jump to search
Highway stage, part 1
[
edit
]
After pressing start, you'll drop onto a highway. Now is the time to start practicing your rapid shot. Press


????


repeatedly to maintain a steady barrage of projectiles. These shots not only damage your enemies, but keep you protected, for a perfect offense eliminates much of the danger.
As you make your way to the right, you'll notice cars driving past. Ignore the cars because they will distract you when the first enemy appears. Immediately after the last car, a Spikey will be moving towards you.
After the Spikey, your path will be blocked by a Gun Volt.
Jump the gap, then get ready to face several Crushers, flying enemies that carry spikes underneath.
Just continue, making sure to kill everything ahead of you. Eventually, the highway will be clear of enemies for a short distance. Don't be fooled by this spot of hope. The enemies aren't there because a much bigger foe can do enough guarding for the lot of them...
Sub-bosses: Bee Bladers
[
edit
]
With the sound of helicopter rotors chattering about, you'll lay eyes on the first sub-boss of the game as it descends from the sky. You'll then face off against a giant mechanical bee, which is called a Bee Blader.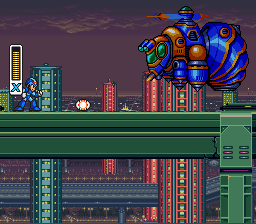 The sub-boss can fire its machine gun turret to keep you from getting close, launch guided missles toward your position, or drop Ball de Voux enemies to assist it. The Bee Blader looks nasty, but it's a simple foe to battle; simply run to the left side, then make short hops and fire charged shots level with the Bee Blader (simply put, repeatedly tap


????


+


????


).
As it sustains damage, it starts inching toward you, closing the gap, but it will die when it nears the middle of the screen. The giant Mechaniloid will fall down and its heavy body will crash into the road with enough force to destroy the bridge. The highway will cave in under you, so you'll have to wall climb the right side to get back up. You can also pick up some energy capsules by jumping down into the next pit.
Continue on and you'll face some Ball De Voux (they only take two shots, so just make sure you hop to get them quickly) and another Bee Blader. This one is a bit more agressive with spitting out Ball De Voux, so keep shooting away to prevent them from getting too close.
Highway stage, part 2
[
edit
]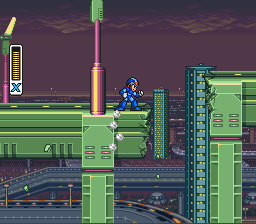 As you walk in this next section, parts of the highway will start smoking and then fall out from under you. They are easy to recognize, being a different color and often being in the form of a single piece of highway hanging off the edge. Oddly enough, you can wall climb them without them falling apart. You'll come across two more types of flying enemies. The first is a Bomb Been, the other is a Jamminger.
The last type of enemy you'll come across is a group of Road Attackers, robots driving cars.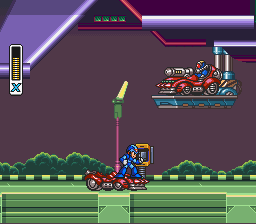 Near the end of the Highway Stage, a long flat stretch with lots of Road Attackers, you'll see a massive warship, the Death Rogumer, floating above you, dropping all these Road Attackers from a loading dock. Run to the far right edge where the screen ends, and just take out cars while you wait. After destroying around four or five cars, the Death Rogumer will suddenly cease Road Attacker deployment, and the stage music will turn ominous.
Boss: Vile
[
edit
]
It appears you've drawn the attention of a more powerful Maverick to come out and fight you personally... A helmeted, purple robot in a dark-colored battle suit of Ride Armor will descend from the loading dock.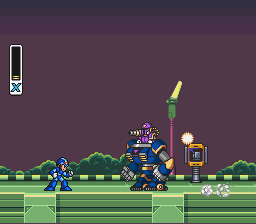 This is a storyline battle, so you can't "win" (Vile is invincible). He will race towards you with his Ride Armor treads and throw punches repeatedly. Once your energy meter drops below a certain point (around four energy bars), Vile will start shooting glowing yellow orbs

at you that entrap enemies in an energy net. If you get hit by one of these projectiles you'll be trapped and both the fight and the level will end with a short cutscene. Keep in mind that if you're hit enough times before being trapped by one of the glowing orbs you can still die; so to fight against this boss safely, throw yourself at one of the orbs to end the battle as soon as possible.
Password thus far
[
edit
]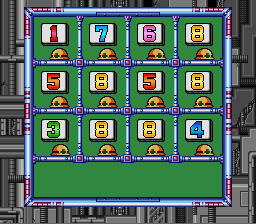 Your reward for finishing the stage is the first password of the game, which will let you bypass the Highway Stage if you enter it from the main menu. Each time you complete a level, collect a permanent item, or acquire an upgrade the password will change.