Jump to navigation
Jump to search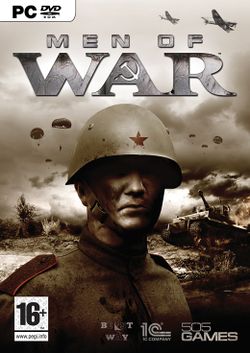 Men of War (Russian: В тылу врага 2: Лис пустыни) is a real-time strategy video game and the sequel of the 2006 real-time tactics game Faces of War, developed in partnership with Best Way by Digitalmindsoft and published by 1C Company, 505 Games and Aspyr Media.
Bowing to the wishes of the Soldiers: Heroes of World War II community for a campaign featuring North Africa, a planned Japanese campaign was cut from the game in exchange for the new African theatre. Given the community's anticipation of the Japanese faction, the developers decided to include the Japanese as a bonus multiplayer faction, allowing for a better developed North African campaign.
Like the game's predecessor, the single player campaign takes place during World War II and features battles set in Europe and the Soviet Union and the new locations Greece and North Africa, across three different campaigns for the Allies, Germans and Soviets. Men of War features Japan as a new multiplayer faction.
Men of War features over 50 different units including tanks, APCs and artillery.
The Soviet faction's single player campaign features two student comrades named Smirnov and Kuznetzov as they rise through the ranks of the Red Army and experience the rigors of war.
Table of Contents