Jump to navigation
Jump to search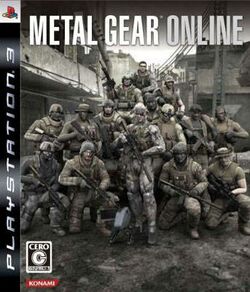 Metal Gear Online is the online component of Metal Gear Solid 4: Guns of the Patriots. It features 16-player online stealth battles, encouraging players to engage heavily in teamwork. It was initially distributed with Metal Gear Solid 4 in the form of a starter pack but later saw a stand-alone release in Japan. It will also be expanded through downloadable content, potentially for up to 10 years.
The game was in beta testing in Japan from August 20 2007 to September 3 2007. Around 3000 people joined the test sessions. US and Canadian customers who pre-ordered Metal Gear Solid 4 in April were included in a further beta test which was due to begin on April 21 2008, however due to many technical difficulties including a server overload, it was postponed to April 25 2008 and continued until May 11 2008, promptly shutting down at midnight PST until its return on June 12 2008 for the worldwide release of MGS4. The beta package obtained from pre-ordering the game also includes a documentary DVD titled "Metal Gear Saga Vol. 2" with an "invite code" inside. On April 11 2008, Konami announced an open Metal Gear Online beta for Europe and that it would be available for download from April 26 2008 and would be entirely open to everyone who downloaded it until May 11 2008.
Metal Gear Online is region-locked, and you are only able to play against people in your own region.
Table of Contents
Metal Gear Online/Table of Contents