Jump to navigation
Jump to search
This is the first game in the Metal Slug series. For other games in the series see the Metal Slug category.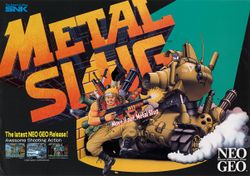 Metal Slug (メタルスラッグ, Metaru Suraggu?) is a run and gun video game for the Neo-Geo console/arcade platform developed by Nazca and published by SNK. It was originally released in 1996 for the MVS arcade platform. The game is widely known for its sense of humor, fluid hand-drawn animation, and fast paced two-player action. It is the first title in the Metal Slug series.
The player has to constantly shoot at a continual stream of enemies in order to reach the end of a level. At the end of each level, the player must confront a boss who is often considerably larger than regular enemies and takes many shots to defeat. On the way through the level, the player finds weapons upgrades and "Metal Slug" tanks that can be used not only as weapons but also as added defense.
During the course of a level, the player encounters POWs. If these are freed, the player can receive bonuses in the form of random items or weapons. The player receives a score bonus for freeing prisoners at the end of the level; at this point the game shows the name and rank of each POW freed. If the player dies before the end of the level, the tally of freed prisoners is deleted.
Table of Contents