Jump to navigation
Jump to search
Controls
[
edit
]
Samus Aran
[
edit
]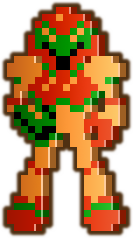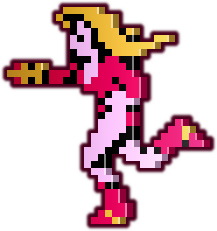 Samus Aran is the heroine of the Metroid video game series. She is a bounty hunter armed with a cybernetic power suit with a number of advanced technologies built into it. She hunts aliens called the "Space Pirates" and energy-draining alien parasites called "Metroids", while attempting to complete missions given by the Galactic Federation. At the time of Metroid's release, her gender was intended to be part of a surprise ending, as Nintendo figured most players would assume that Samus was male. Samus is considered one of the earliest and most significant female protagonists in the history of video games.
Samus' main distinguishing feature is her Power Suit, a modular suit of armor created for her by an alien race called the Chozo. The Power Suit's main purpose is to protect her from adverse environments and enemy fire. The suit can be upgraded to various other forms for added protection, and receive various power-ups which augment her abilities, including Space Jump boots, energy tanks, the Screw Attack, and numerous modifications to her weapons.
Little is known of Samus' past, yet details of her beginnings can be gathered from various sources, including the instruction manual of Metroid Prime, and the Metroid e-manga. Her biography in Super Smash Bros. Melee states that she was orphaned during a Space Pirate raid on her homeworld of K-2L. It also states that she was subsequently rescued by the bird-like Chozo race and infused with "Chozo blood". Information in Metroid: Zero Mission and Metroid Prime strongly suggests that she was raised on the planet Zebes by the Chozo, who referred to her as "the Hatchling", and that she became their most prized warrior.
The official Metroid e-manga details the events of Samus' childhood on the planetary colony of K-2L and depicts the Space Pirate attack which resulted in the deaths of all the colonists, including Samus' parents, Lott and Virginia. The 3 year-old Samus miraculously survived and was found by the Chozo, who took the orphaned girl back to their home planet of Zebes where she would be raised. The subsequent volume of the e-manga portrays Samus' upbringing on Zebes, and her training with the Chozo there. In order to survive against the harsh environment of Zebes, the Chozo infused Samus with their DNA, providing her with enhanced physical abilities. As she grew older, the Chozo elders had Samus don a Power Suit which they'd developed, and trained her as a warrior, eventually sending the hunter out to fulfill their legacy and become protector of the galaxy.
In Metroid, Samus is sent by the Galactic Federation to stop the Space Pirates' production of Metroids after the Federation's own attempts had failed.
Starting a game
[
edit
]
Follow the "Nintendo Entertainment System" instructions for any non-Japanese region release. Follow the "Famicom Disk System" instructions for all Japanese region releases.
Nintendo Entertainment System
[
edit
]
Famicom Disk System
[
edit
]