Jump to navigation
Jump to search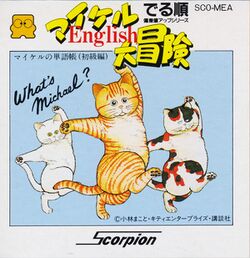 Michael English Daibouken (マイケルのイングリッシュ大冒険, Michael English Daibouken? lit. Micahel's English Great Adventure) is an educational game developed by Scorpion Soft and published on the Famicom Disk System in 1987. It is intended to teach Japanese children how to recognize and read the English alphabet.
The story of the game was presented during the introduction of game. It was written exactly as follows:
IN THE YEAR 200X, MICHAEL THE CAT HAPPENED TO BE EXPELLED FROM HIS ORIGINAL PLANET GARIBEN BECAUSE OF HIS POOR GRADES OF HENSACHI. MICHAEL WAS THROWN OUT OF PLANET GARIBEN AND AFTER WANDERING COUPLE OF DAYS IN OUTERSPACE .... HE FINALLY THE STAR ISLAND LIKE THE PLANET EARTH. MICHAEL WAS EXTREMELY IMPRESSED BY THE ADVANCED ACADEMIC LEVEL IN THIS SPACE ISLAND. FROM THE DAY MICHAEL WAS IMPRESSED, HE MADE UP HIS MIND TRYING STUDY ALL OVER FROM THE BEGINNING. HE WAS ALWAYS HOPING TO GO BACK TO HIS MOTHER STAR OF GARIBEN. ONLY WAY FOR HIM TO GO BACK WAS TO GET GOOD GRADES IN THE SPACE ISLAND. NOW, LET'S START FROM A B C.
Table of Contents