Jump to navigation
Jump to search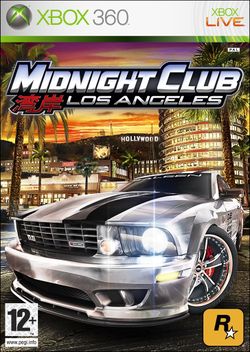 Neoseeker Related Pages
Links
Midnight Club: Los Angeles is the fourth video game in the Midnight Club racing series. It was officially announced for PlayStation 3 and Xbox 360 on May 16, 2007 by Rockstar Games. The game was developed by Rockstar San Diego, the same studio behind Rockstar's first iteration into the seventh generation of video games, Rockstar Games Presents Table Tennis. The map of Los Angeles is the size of all three cities from the previous installment combined.
The game will be set in the city of Los Angeles, again providing the option to completely free-roam (on roadways quite larger than all the cities combined from Midnight Club 3: DUB Edition). New additions are a day-to-night cycle and weather effects, adding a realistic aspect to the game. After races, if any damage is inflicted upon the vehicle, the player doesn't necessarily have to drive back to the garage for a full repair, but instead can choose the Quick Fix option through which old, junk yard-esque parts will be added to the car. To get the nice look back, the player must actually drive back to repair their vehicle at a garage so actually totaling the vehicle at all is not possible any more. The Los Angeles map is considered one of the most detailed and accurate versions of L.A. yet. With the RAGE system being used for this game, as with Grand Theft Auto IV. Traffic level will vary upon time of day, so morning and afternoon times will have the heaviest traffic, whilst night time will have less traffic, as Rockstar is trying to imitate real-life rush hours. This encourages less experienced players to race at night and more experienced to race during the day. Another great feature is the game's new camera. Now a camera is available from within the car as a view much like in Test Drive Unlimited, which indicates that Rockstar will be adding the ability to customize the interior of the cars with steering wheels, shifters, seats, etc.. Also, during third-person view, the camera swings to the side when turning as if the camera cannot hold onto the speed. Motorcycles return, though no specific names have been released (in one of the screenshots you can see a Kawasaki). Other vehicles include: Ford Focus SVT, Mazda RX8, Audi RS4, and Mitsubishi Eclipse. Any other official Car List has not been released by Rockstar Games yet.
Developers of the game have often emphasized the lack of load screens, stating that the player can literally jump from career mode to an arcade race in under ten seconds. It is also rumoured that the game will feature an online free-roam mode however this has only been 'confirmed' by one Take-Two employee. The new dynamic weather elements are also reported to alter gameplay so that rain creates slicker streets for example.
Table of Contents