Jump to navigation
Jump to search
Atari 2600
[
edit
]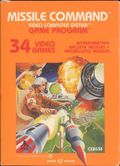 Developed and published by Atari in 1981. Along with Space Invaders and Asteroids, Missile Command was one of the first three smash arcade game conversions that helped Atari propel sales of the 2600. This version contains only one missile silo with 3 sets of 10 missiles. There are no planes and satellites. Smart bombs are only "smart" in certain game selections. The missiles tend to come down in sets of two or three with equal velocities.
Atari 5200 & 400/800/XL/XE
[
edit
]
Developed and published by Atari in 1981. The same version was released for both the Atari 8-bit line of home computers, and the Atari 5200. It contained greater analog support on the Atari 5200. It contained nearly every aspect of the original arcade game. The only major difference was the lack of multiple silos. Instead there is only one silo with five sets of six missile each.
Atari Lynx
[
edit
]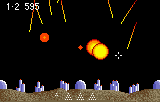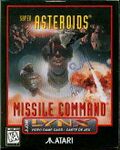 Developed and published by Atari in 1994. Combined with a remake of Asteroids. There are three missile silos, but the game automatically chooses which silo to fire an ABM from.
Commodore 64
[
edit
]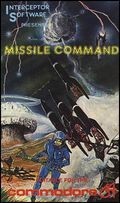 Developed an published by Interceptor Micros in 1983. This is an unauthorized version of the game.
Game Boy
[
edit
]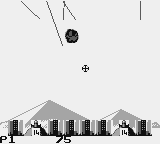 Originally developed by The Code Monkeys and published in 1992. Contains two silos with 15 missiles each. The B button launches the left silo and the A button launches the right silo. The cities are named, and the cities change every two stages. The explosions last a particularly long time in this version.
Super Game Boy
[
edit
]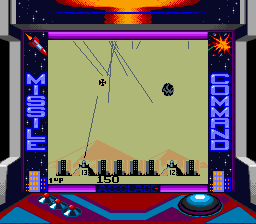 Both the original Asteroids and Missile Command games for the Game Boy were republished as one compilation cartridge by Nintendo in 1998. Super Game Boy support was added to both games.
Game Boy Color
[
edit
]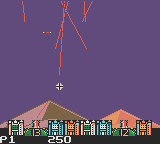 When Hasbro published new versions of Missile Command for the PlayStation and PC, they republished the original Code Monkeys version, adding new colorized graphics and updating the sprites. Strange humorous intermissions are included between every two stages.
Xbox Live Arcade
[
edit
]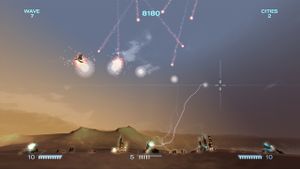 Missile Command was released via Xbox Live Arcade on July 4, 2007 for 400 Microsoft Points. It features updated high-definition graphics.