Jump to navigation
Jump to search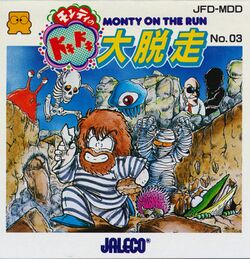 | | |
| --- | --- |
| Japanese title | モンティのドキドキ大脱走 |
| Release date(s) | |
| Genre(s) | Action |
| Players | 1 |
Monty no Doki Doki Daisassou (モンティのドキドキ大脱走, Monty no Doki Doki Daisassou? lit. Monty's heart pounding great escape), also known as Monty on the Run, is an action game developed for the Famicom Disk System by Jaleco in 1987. This game was the product of Jaleco acquiring the rights to license and publish a hit game from the European computer market titled Monty on the Run. However, unlike a similar previous effort with Knight Lore which stays close to the original source, Jaleco changed the game entirely for unknown reasons.
In Monty no Doki Doki Daisassou, Monty is a human being who has escaped from a penitentiary. Still dressed in striped convict clothing, Monty is on a mission to clear his name. He must proceed through four levels, each of which contains several hidden tiles. These tiles contain portions of the image of a face. At the end of each level, Monty must jump on to a platform just before the exit. This platform is a direct clue to the proper construction of the collected tiles. There are more tiles than necessary to construct a face, making some tiles extraneous. Only by paying proper attention to this final platform can the player know which face to construct. At the end of the game, the player must properly reconstruct the face of the true criminal before a judge. If the player succeeds, he will earn his freedom and win the game.
Although the game bares little to no resemblance to the original computer game which shares its name, there are some small connections between the two. The copyright of Gremlin Graphics appears on the title screen. Additionally, the title screen plays a butchered version of the famous background music composed by Rob Hubbard that plays throughout the original game. Like the original game, the player is allowed to select some help items that will aid Monty throughout the game. Unlike the original game, the player is only allowed to select two items from two distinct sets; one weapon and one utility.
Table of Contents