Jump to navigation
Jump to search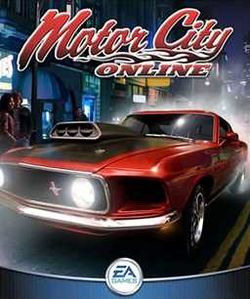 Motor City Online was a MMORG (massively multiplayer online racing game). It was developed and published by Electronic Arts and went offline on August 29, 2003. Initially the game was to be called Need for Speed: Motor City. It is now considered a Need for Speed spin-off and is based on the old Need for Speed game engine. The point of the game was to buy classic American cars (mostly muscle cars) ranging from the 1930s to the 1970s, tune them up, and race them against other players. While Motor City Online was dead, a fan developed Motor City Offline, a version of the game designed for play offline. It contains 34 converted car models from the original game. Motor City Offline was built using a modified version of the Need for Speed: High Stakes engine.
Gameplay
[
edit
]
Drivers could have characters that are male or female that you can change the hair color, the clothes color, and the skin color. In this game players primarily buy and tune their vehicles to their likeness. Other than simply buying from a dealership, it was also possible to take part in auctions. After a race, players were allowed to repair their cars and watch a replay. Motor City Online could be played with either a joypad or a mouse and keyboard.
Race Types
[
edit
]
Circuit Racing
Drag Racing
Sanction Racing
Street Challenge
Test Drive
Customization
[
edit
]
Customization seen in this game is very complex and comprehensive, even before the release of Need for Speed: Underground.
Performance Parts
[
edit
]
Cars in this game could be fitted with numerous mods such as blowers, camshafts, and headers. It is said that some tuning parts could not be bought directly.
Visual Parts
[
edit
]
Any vehicle in Motor City Online could be modified visually. By modifying a car, an additional suffix was added to describe the car's appearance. The game also offered special paint jobs that were incredibly hard to get. Other than that, some vehicles could also be turned to convertibles.
End of Game
[
edit
]
EA Games eventually took the game servers offline on August 29, 2003. The game lagged and the number of subscribers dropped to below 36,000. During times of high latency, cars acted unpredictably due to lag. EA was focusing on their other online game, The Sims Online. Users who were still playing the game were offered access to Earth & Beyond, The Sims Online, or Ultima Online. The Sims Online eventually went offline in 2008.
Table of Contents