Jump to navigation
Jump to search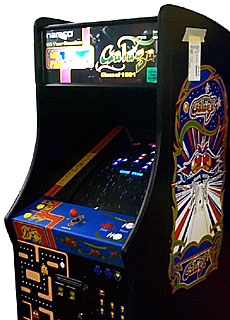 Ms. Pac-Man and Galaga: Class of 1981 is a compilation arcade game that was released by Namco in 2001; as its naming suggests, it was released to mark the twentieth anniversary of both games and features carbon copies of them in a cabinet that has Ms. Pac-Man artwork on its left side, and Galaga artwork on its right. However, it's neither officially a part of the Pac-Man series or the Galaxian series.
Ms. Pac-Man: Originally developed up by Namco's old US distributor Midway Games without their permission, a continue feature has been added on this version; the original version did not have it.
Galaga: This is the second time the first Galaxian sequel is featured for a Namco compilation (the first was in Namco Classics Collection Vol. 1, 1995); the original Pac-Man is also featured in it, as a hidden game (after inserting a coin, push the joystick up thrice, down thrice, left, right, left, right, and left). If done correctly Ms. Pac-Man will change colour on the monitor - and if you push either of Ms. Pac-Man's Start Buttons (there are two for both games) it will invoke the original Pac-Man.