Jump to navigation
Jump to search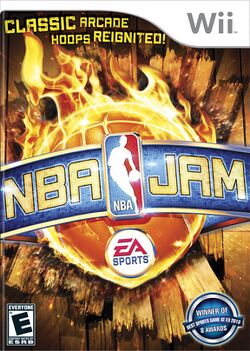 This guide is for the 2010 game. For other NBA Jam games, see the NBA Jam category.
NBA Jam is a basketball video game developed by EA Canada and published by EA Sports. It is the latest installment in the NBA Jam video game franchise and it was released on October 5, 2010. The game was initially planned to be available as a full retail release for the Wii, with the PlayStation 3 and Xbox 360 versions available for download via a coupon upon purchasing NBA Elite 11. However, on September 28, 2010, EA announced that Elite would be delayed and that the PS3 and Xbox 360 versions would be released as standalone titles in time for the holidays.
The game has a unique visual style, using 3D models with high-resolution photographs for the heads of each of the players. Several aspects such as the outrageous slam dunks and the ball catching on fire return from the original games. Original NBA Jam creator Mark Turmell is serving as a consultant. Tim Kitzrow, the announcer from the original NBA Jam will also be returning, re-recording all the lines from previous NBA Jam titles as well as some new ones, such as the popular internet meme "Boom Goes the Dynamite!".
Table of Contents