Jump to navigation
Jump to search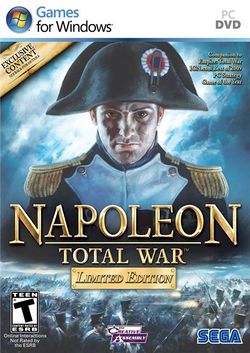 Neoseeker Related Pages
Links
Napoleon: Total War is a turn-based strategy and real-time tactics video game developed by The Creative Assembly and published by Sega for Windows. Napoleon was released in North America on February 23, 2010, and in Europe on February 26. The game is the sixth stand-alone installment in the Total War series. The game is set in Europe, North Africa, and the Middle East during the late 18th and early 19th centuries. Players assume the role of Napoleon Bonaparte, or one of his major rivals, on a turn-based campaign map and engage in the subsequent battles in real-time. As with its predecessor, Empire: Total War, which included a special United States storyline, Napoleon features two special campaigns that follow the general's early career.
As with all other games in the Total War series, Napoleon consists of two gameplay types: a turn based geopolitical campaign—which requires players to build structures in a faction's territories to produce units and create a source of income, research new technologies, deal with other in-game factions through diplomacy, trade and war, sending agents on missions, creating and commanding armies, and eventually become the world's dominant faction—and real time tactical battles where players command huge armies to direct the course of any battles that take place.
Napoleon: Total War contains four campaigns, two of which follow Napoleon's early military career. The first career event is the Italian campaign of 1796, while the second is the French invasion of Egypt in 1798. Both feature smaller, optional missions that help drive the story forward. The major French campaign, however, is "The Mastery of Europe," which resembles the holistic modes of previous Total War games. Conversely, the "Campaigns of the Coalition" allows players to govern Great Britain, Russia, Prussia or the Austrian Empire and attempt to defeat Napoleonic France on the same map. Each major campaign requires players to obtain a certain number of territories, although the latter also demands that the French are defeated. Many of Napoleon's major battles such as Austerlitz, Trafalgar, and Waterloo are available as historical scenarios, separate from the campaign.
Table of Contents