Jump to navigation
Jump to search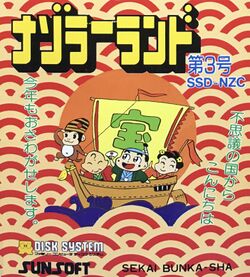 Nazoler Land Dai 3 Gou was the third and final "Magazine Disk" published by Sunsoft for the Famicom Disk System. This last disk was released in 1988. The full title of the disk is Nazo no Magazine Disk Nazoler Land Dai 3 Gou which translates as "Puzzle Magazine Disk Nazoler Land 3rd Issue". Rather than featuring one game, it contains a collection of 6 games which would be considered "mini-games". The player selects which game to play from the menu screen.
Game Selection
[
edit
]
Game
Description
スゴロクイズ

Sugoro Quiz

Snakes and ladders that can shake the dice and answer the quiz. Up to four can play with one controller. There is no time limit, and no computer players, so there is more of an emphasis on party playing than the quiz game in the previous Nazoler Land.
爆走トモちゃん

Tomo-chan Bakuso

Tomo-chan 2nd Series. Run through passages full of blocks, and clear the stage by reaching the door at the far right. There are four stages. Some floors have a "↑" mark in various places, and you can only pass on it three times in each stage.
ナゾラー少年探偵団

Tanteidan boy Nazora

At the start, a doctor has been locked up in this room alone. Help him attempt to escape by making full use of the equipment in the room. The state of the room is displayed graphically as you proceed.
ビンゴゲーム

Bingo game

Much less of a game and more of a random drawing until one player's card achieves bingo. The game will continue until someone's card wins.
ナゾラーBOX おたよりコーナー

Nazoler BOX: Corner hearing

This is a continuation of the information segment that was present on the previous Nazoler Land disk, in the guise of a broadcast. Kirk, the hero from Dead Zone, makes a cameo appearance.
ナゾラーBOX ミス・ナゾラーコンテスト

Nazoler BO:X Miss Nazoler Contest

This section presents the winners of the dot painting contest that was held on the previous Nazoler Land disk. It is moderated by Carrie from Dead Zone, and Cal from Ripple Island.
Table of Contents