Jump to navigation
Jump to search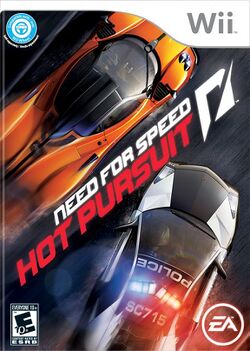 The Wii Version of Need for Speed: Hot Pursuit was developed by Exient Entertainment and published by Electronic Arts. While superficially similar to its ports on Xbox 360, PC, PS3, and mobile, it features multiple changes that make it a nearly completely different experience from the others. Reviewers have superficially compared it to Need for Speed: Nitro.
The Wii version of Need for Speed: Hot Pursuit is single player only.
Instead of occurring in Seacrest County, Need for Speed: Hot Pursuit on the Wii takes players across the globe to race in various events. When playing as an interceptor police car, each region also has a named crew boss that the player must apprehend. The areas available are:
| Region | Time | Crew Boss |
| --- | --- | --- |
| Chongqing, China | Morning | Jun Jihuang |
| Dubai, United Arab Emirates | Afternoon | Askari Merikh |
| Rio de Janeiro, Rio de Janeiro, Brazil | Twilight | Guerra Lobo |
| Las Vegas, Nevada, USA | Night | Creo Lues (not encountered) |
Need for Speed: Hot Pursuit also features a number of collectible powerups ("Supe-ups") to temporarily give your vehicle an edge.
Table of Contents
Chongqing, China
Dubai, UAE
Rio de Janeiro, Brazil
Las Vegas, USA