Jump to navigation
Jump to search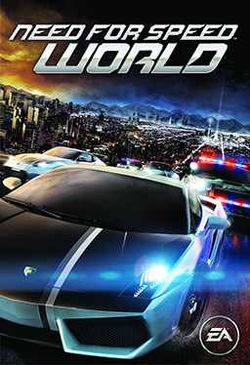 Need for Speed: World, called Need for Speed: World Online in ASEAN (Association of Southeast Asian Nations), was the fifteenth installment in the Need for Speed series. It was the first free-to-play MMORG (Massively Multiplayer Online Racing Game) in the Need for Speed series (though Motor City Online was originally conceived as a Need for Speed game) and was available exclusively for Windows-based computers. World was released worldwide on July 27, 2010. However, people who ordered the Need for Speed: World Starter Pack had an early head-start in the game, which started on July 20, 2010. The game's servers shut down in 2015, rendering the game unplayable. However, a fan-made server mod exists that allows the game to played in single-player post-closure.
Starter Pack
[
edit
]
The Starter Pack is a small bundle that costs $20. Players who purchased it before the release got a favoured login, a free orange and black Mazdaspeed 3, removed level 10 cap, and 8000 SpeedBoost points (SpeedBoost is a second in-game currency that you can only get with the exchange of real life currency). This pack is only purchasable until December 31, 2011.
Before September 8, 2010, the Starter Pack had to be purchased in order to remove the level 10 limit. Although many gamers felt that they had been ripped off after the level 10 cap was removed on September 8, 2010. EA gave those who purchased a Starter Pack a free one-week rental of the Audi R8, Lamborghini Gallardo, and BMW M3 GTR as consolation.
On January 21, 2011, a new Starter Pack became available. For the same price as the earlier pack, players get the Toyota Supra, BMW Z4, and Porsche Cayman S. Also included is 8000 SpeedBoost points, $60,000 in-game cash, 10 day 2x Rep Amplifier, and a favoured login.
Gameplay
[
edit
]
The game's environment is a mixture of Rockport from Need for Speed: Most Wanted and Palmont City from Need for Speed: Carbon. Players advance through the game by participating in race events and engaging in police pursuits. Cars handle in a similar manner as Need for Speed: Most Wanted, although vehicles will loose significantly more speed if they collide with an obstacle. The players progress is measured by their current level with a cap upon reaching level 50. Players can unlock more events by reaching higher levels. Players are offered reward cards after completing an event or finishing a police pursuit. This is similar to the reward card scheme in Need for Speed: Carbon. Players can only choose one of five cards. The rewards given to the player can be either power-ups, additional in-game currency, additional reputation, or high level performance parts.
Reputation
[
edit
]
Reputation (aka Rep) is the amount of experience the player has in Need for Speed: World. The amount of reputation a player has is indicated by a large blue bar along the top of the screen. A player will increase their driver level by earning a certain amount of reputation. Players can earn reputation by completing Circuit, Sprint, Pursuit, Team Escape, and Treasure Hunt events. The amunt of reputation a player earns differs depending on the specifics of each event type.
Circuit - Players earn more reputation by completing the race in a high finishing position and successful use of power ups.
Sprint - Same as Circuit
Pursuit - Players earn more reputation depending on the total amount of disabled police vehicles, cost to state, pursuit length, and infractions when they evade.
Team Escape - Players earn reputation depending on how many players cross the finish line. Players earn maximum reputation if all 4 players cross the finish line.
Treasure Hunt - Players earn reputation by collecting all 15 gems that have been hidden around a certain location. Gems are hidden in a different location every day.
Free Roam
[
edit
]
The roads in World are a mix of Rockport and Palmont City. Both cities and their districts are connected by highways. The weather system in World doesn't feature rain or nighttime racing but does cycle daytime from sunrise to sunset. A Treasure Hunt element was added on June 28, 2011. The golf course in Rosewood was temporarily covered in snow during Christmas 2010 and in December 2011, and now December 2012.
Pursuits
[
edit
]
The police chases seen in the game is similar to those seen in Need for Speed: Carbon, although new police models and usable power-ups have been added.
A player's vehicle will always receive a damage increase upon completing an event. The amount of damage a vehicle has sustained is displayed on the bottom right of the screen. It is shown in the form of a blue bar displaying a vehicle's structural integrity. A vehicle will be completely damaged once this bar is depleted at which point a vehicle will no longer have functioning tuning parts. Players can repair a vehicle with in-game cash although the amount required will differ depending on the vehicle's Tier and damage amount. A player can purchase "Insurance" on a vehicle with 250 SpeedBoost points. Insurance will prevent a vehicle incurring any form of damage although it only covers a vehicle for one week. Rental cars always have insurance.
Customization
[
edit
]
Players are given a large amount of visual and performance parts. Cars can be equipped with bodykits, carbon fibre hoods, rims, and neons, however they have to be bought with SpeedBoost points. Cars can also have vinyls added to their bodies using in-game currency. The performance modding system is reminiscent of the one seen before in Need for Speed: Most Wanted. Each part can be replaced or modified by one of four Street, Race, or Pro performance parts made by various manufacturers.
| Package | Performance Increase | Unlock |
| --- | --- | --- |
| Street | Minimal | Available at the beginning of the game. |
| Race | Moderate | Unlocked at intermediate player levels. |
| Pro | Substantial | Unlocked at higher player levels. |
Power-Ups
[
edit
]
The game features two types of power-ups: Event and Pursuit. Overall there is ten power-ups that can aid players and that can be upgraded the higher a player's Driver Skills are. Each power-up has a active delay (how long a power-up lasts), a cooldown period (how long before you can use a power-up and how long before you can use the same power-up again), and upgrade skills (what skills will upgrade each power-up). Power-ups can only be acquired if the player gets a power-up reward card after an event or pursuit or if it is purchased for 100 SpeedBoost.
| Power-Up | Description | Type | Upgrade Skill | Active Delay | Cooldown |
| --- | --- | --- | --- | --- | --- |
| Emergency Evade | Forces police vehicles away from a player's car for a small instance during a Pursuit. | Pursuit | Evasion | 1 Second | 120 Seconds |
| Instant Cooldown | Ends a cop Pursuit immediately when in Cooldown. | Pursuit | N/A | 0 Seconds | 0 Seconds |
| Juggernaut | Increases the player's car's speed and weight whilst negatively impacting car handling. | Pursuit | Rampage | 10 Seconds | 30 Seconds |
| Nitrous | Provides a short duration of increased acceleration. | Event | Extended Nitrous, Super Shot, & Rapid Fire | 3 Seconds | 30 Seconds |
| One More Lap | Adds one more lap to a circuit race with only 1 use per event. | Event | Strong Finisher | 0 Seconds | 0 Seconds |
| Ready | Eliminates the remaining cooldown period for Power-Ups making them ready to use again. | Event | Lightning Reflex | 0 Seconds | 90 Seconds |
| Run Flats | Restores the tyres of a player's car after running over a spike strip. | Pursuit | N/A | 0 Seconds | 30 Seconds |
| Shield | Grants a player an immunity from targeted Power-Ups for a brief period of time. | Event | Rolling Fortress | 20 Seconds | 90 Seconds |
| Slingshot | Increases a car's performance when further from the lead. | Event | N/A | 15 Seconds | 60 Seconds |
| Traffic Magnet | Attracts traffic vehicles to the event leader for a short period of time. | Event | Traffic Cop | 20 Seconds | 60 Seconds |
Driver Profile
[
edit
]
The Driver Profile keeps a running tally of how many Events a player has participated in, won, and lost as well as their average finishing position. Players can find details of their Driver Profile in the Safehouse section of the game.
Table of Contents