Jump to navigation
Jump to search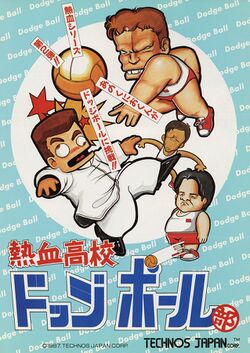 This guide is for the original Arcade release. For the home console releases, see Super Dodge Ball (NES). For the PC Engine release, see Nekketsu Koukou Dojjibooru Bu: PC Bangai Hen.
Super Dodge Ball, released in Japan as Nekketsu Koukou Dodgeball Bu (熱血高校ドッジボール部, Nekketsu Koukou Dojjibooru Bu?, lit. "Hot-Blooded High School Dodgeball Club") is a dodgeball-based sports game produced by Technos Japan originally released as an arcade game in 1987. In Japan, it was the second game starring Technos Japan's video game character Kunio-kun, following Nekketsu Kouha Kunio-kun (the Japanese version of Renegade), although the connection between the two games was removed in the western release. Various home versions and sequels of the game have been released for various platforms.
The Japanese version features an opening sequence which parodies the pre-stage introductions of Kunio-kun which depicts Kunio being struck by a dodge ball thrown by a passing thug and his teammates chasing after said thug. The American teams of Dallas and Chicago were originally the Japanese teams of Nekketsu High School and Hanazono High School, while the final match was actually against U.S. team themselves. The characters' skin tones and hair colors were changed accordingly in the Western version to reflect this. The Japan-only X68000 port was released on September 1988. It added stereo music and parallax scrolling, as well as a cheat code that increases the character variations. The PlayStation 2 version, released in Japan on January 26, 2006, was published by Hamster as part of the Ore-tachi no Gēsen Zoku series. It is an emulation of the original arcade game.
Table of Contents