Jump to navigation
Jump to search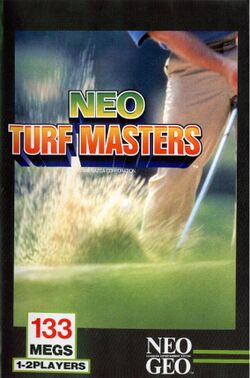 Neo Turf Masters (Big Tournament Golf in Japan) is a golf video game by Nazca for the Neo Geo, released in 1996. This is also one of the first two titles by Nazca, the other being the popular Metal Slug before being acquired by SNK.
The game was released as an arcade cartridge (MVS), a home cartridge (AES), as well as for the Neo Geo CD console. The Neo Geo version was later re-released as part of the SNK Arcade Classics Vol. 1 compilation for the PlayStation 2, Wii and PlayStation Portable, as well as for the Wii Virtual Console.
A version for the Neo Geo Pocket Color was later released in North America in 1999. The NGPC version features less detailed, cartoonish graphics compared to the Neo Geo version.
The game is a fast-paced, arcade-style golf game. Players choose from two game modes, stroke play for one or two players, and match play for only two players.
Competing on one of four fictional golf courses located in the United States, Japan, Australia and Germany, players choose from one of six players with different attributes.
Table of Contents