Jump to navigation
Jump to search
This is the first game in the Zero Escape series. For other games in the series see the Zero Escape category.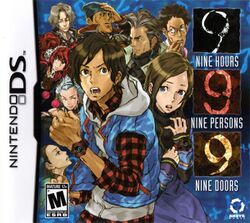 Neoseeker Related Pages
Links
999: Nine Hours, Nine Persons, Nine Doors (Kyokugen Dasshutsu Ku Jikan Ku Nin Kyū no Tobira in Japan, lit. "Extreme Escape: 9 Hours, 9 Persons, 9 Doors") is a graphic adventure game released on the Nintendo DS in Japan on December 10, 2009, and in North America on November 16, 2010, followed by an iOS port with removed puzzle elements released worldwide. The game's scenario was conceived by Kotaro Uchikoshi, who both wrote and directed the game. Character design was provided by Kinu Nishimura (who first gained recognition for her work under Capcom, particularly the Street Fighter and Darkstalkers franchises), while music was composed by Shinji Hosoe (who previously provided scores for Namco arcade games such as Dragon Spirit, Final Lap, and Tekken).
Uchikoshi was initially commissioned by Chunsoft to write a visual novel that would appeal to a wider audience, and so he suggested the addition of puzzle elements. As part of his search for inspiration regarding the game's story, which he had decided to hone in on by focusing on the source of inspiration itself, Uchikoshi came across English parapsychologist Rupert Sheldrake's hypothesis on morphic resonance. This hypothesis would later become a running theme of the game, with other influences including the work of American writer Kurt Vonnegut, Isaac Asimov, and the tragedy of the Titanic.
While the game failed to make a commercial impact in Japan, it would go on to become a sleeper hit in the west, launching the Zero Escape series.
Gameplay
[
edit
]
This is a text-heavy game, and more emphasis is placed on the plot, characters, and dialogue than on the gameplay, which consists of solving puzzles in order to unlock the door and proceed. In addition, the choices the player makes can lead to any of the six endings, only one of which is the "true" ending.
Nine people have been abducted by the masked man who calls himself "Zero." They have nine hours to escape a sinking ship by heading through the nine doors, each numbered 1 through 9, in hopes of finding door 9, the alleged way out.
Table of Contents