Jump to navigation
Jump to search
This is the first game in the Nintendogs series. For other games in the series see the Nintendogs category.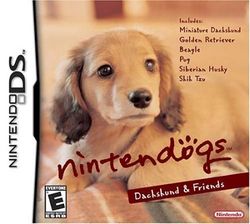 Neoseeker Related Pages
Links
Nintendogs is a Nintendo DS game based around looking after a puppy (or puppies) and entering them into competitions, earning money to buy them things, etc. The dogs will not 'die', but if they are not fed for a long period of time they will be disobedient until they are. Nintendogs was originally released in three versions (Dachshund & Friends, Chihuahua & Friends and Lab & Friends). These were followed by two more versions, Dalmatian & Friends and Best Friends.
Like the multi-version releases in the Pokémon series, the different versions of Nintendogs are mostly identical. All include the same breeds, although each only provides access to a limited selection at the beginning of the game; other breeds can be unlocked by collecting owner points. Version-exclusive items can be unlocked by using Bark Mode with a different version.
Table of Contents