Jump to navigation
Jump to search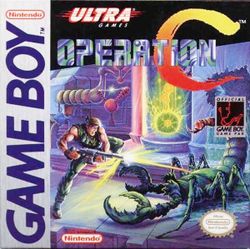 Operation C, released as Contra (コントラ, Contra?) in Japan and Probotector in Europe and Oceania, is a 1991 run and gun game by Konami released for the Game Boy. Operation C is the first portable installment in the Contra series and features the same gameplay seen to the NES version of Contra, as well as in Super C.
Like Super C, Operation C consists of side-view and top-view stages. There are a total of five stages in the game.
American version
[
edit
]
TODAY'S MENU FEATURES HOMEGROWN ALIENS... Corporal Lance (Code name: Scorpion) is no slouch when it comes to man-to-alien combat. He and his partner Sgt. Bill "Mad Dog" Ko have twice defeated Red Falcon, the most despicable villain to overtake a planet... or at least try. But the danger is not over yet.
The vile Black Viper has come from deep space to finish what Red Falcon started. And he did not come alone. Black Viper has transported a battalion of battletron tanks, stealth subs, laser cannons and annihilating androids. Now, from a secret naval base on a desolate ocean island, he is planning to unleash his hideous secret weapon: a new mutant breed of killer aliens.
Armed with an array of devastating weapons, Scorpion's new mission is to infiltrate the five freak-laden levels of the enemy base and put an end to the madness-and Black Viper-once and for all. As he prepares to enter the secret army base alone, he knows it will take more than sheer firepower to wipe out Black Viper's horrific horde of mega-mutants. Scorpion will have to keep his eyes peeled sharp for unceasing assault by artillery snipers and keep his wits about him as he leaps into battle against grotesque genetic mishaps. The revival of the aliens must be stopped and the ambitions of the evil Viper vanquished forever!
Japanese version
[
edit
]
The Red Falcon organization's plot to invade the Earth has been thwarted twice thanks to the efforts of the Contras, experts in guerrilla and anti-alien warfare. However, another moment of crisis was yet to come...
A certain superpower with the ambition to dominate the world has observed the great battle between the Contras and the aliens, and now their dreadful plot to research the aliens in order to bring into fruition military weapons of mass destruction for use in the near future has progressed in secrecy. The aliens are being cloned in an isolated South Pacific island and it's only a matter of time before they resurrect completely.
When the governing body of the Federation Army learned of this dreadful plan, they gave secret orders to Private First Class Bill, a veteran hero from the Contra unit, to thwart this plot. A grand battle begins once again as Bill is sent to the secret military base by himself. The ambitions of the superpower must be shattered and the revival of the aliens must be stopped!
PFC. Bill is a war hero with a long military career who is a member of "Contra". A professional in anti-alien warfare, Bill has fought in two alien invasions in the past.
Table of Contents