Jump to navigation
Jump to search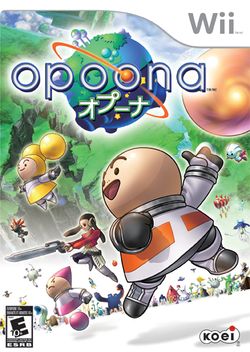 Neoseeker Related Pages
Links
Opoona (オプーナ, Opūna?) is a roleplaying game developed by ArtePiazza and published by Koei for the Wii. The player follows the story of the titular Opoona as he attempts to find the location of his family from which he was separated after the occurrence of a mysterious accident during their travels.
To progress through the game, Opoona will acquire licenses for different jobs (e.g., rescuer, idol, detective), and players are able to choose what they would like to become. The game can be played one-handed using just the

, but the Classic Controller can also be used. In battles, flicking

will fire a projectile, the trajectory of which can be changed. This style of play is named the Active Bon-Bon Battle System.
Opoona is a descendant of the brave Cosmo Guards. After being separated from his family during a visit to the planet Landroll, he finds himself injured in a hospital and unable to remember how he wound up there. It is the player's job as Opoona to earn a license to travel to other colonies and find out what exactly happened to his brother and sister.
Table of Contents