Jump to navigation
Jump to search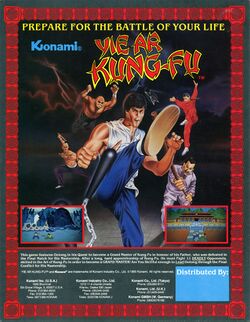 Yie Ar Kung-Fu
Developer(s)
Konami
Publisher(s)
Konami
Year released
1985
System(s)
Arcade, NES, MSX, BBC Micro, Commodore 64/128, Commodore 16/Plus 4, Amstrad CPC, Sinclair ZX Spectrum, Game Boy Advance, Xbox 360, Wii, Wii U, Nintendo Switch
Series
Arcade Archives
Neoseeker Related Pages
Links

Long before Street Fighter II, even before the first Street Fighter, there was Yie Ar Kung-Fu by Konami. Introduced to the arcades in 1985, it was a ground breaking one-on-one fighting game that pioneered many of the features that became the standard in many of the fighting games developed by Capcom, SNK, and others. These features include a health bar, a unique cast of opponents with different skill sets, and different sets of moves distinguished by a punch and a kick button.
Granted, Yie Ar Kung-Fu is not as sophisticated as its ancestors in the fighting genre, but it is an enjoyable game in its own right. In the arcade version, the player must take on eleven different opponents in two locations. He has a variety of punch and kick moves which are dictated by the direction of the joystick and which button is pressed. Each fighter has ten hit points, and only one battle determines the winner. If the player loses, he loses one chance from his stock of lives and must face the same opponent again.
Konami ported the game to two home systems in Japan, the Famicom, and the MSX home computer. Due to memory restrictions, the game was simplified and there are only five opponents, representing a sampling of those found in the arcade version. Imagine Software was responsible for three ports to home computer systems that attempted to cram as much of the original arcade version in to the conversions as possible. In 2005, developer Hamster released the game for the PlayStation 2 as part of their classic game remake series.
Yie Ar Kung-Fu follows Oolong's quest to become the greatest martial arts champion in world history, from the initial five opponents by a cascading waterfall, to the final six opponents in a Chinese court yard. Oolong must defeat every opponent in order to earn the opportunity to face the current champion, Blues. Will he win the title?
Table of Contents