Jump to navigation
Jump to search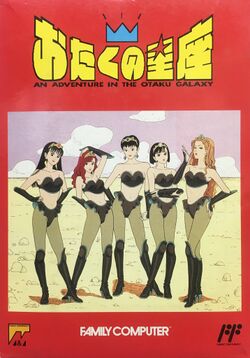 Otaku no Seiza: An Adventure in the Otaku Galaxy (おたくの星座, lit. "Constellation of the Geeks"?) is a role-playing video game was released for the Famicom on July 31, 1991 in Japan only, and developed by Advance Communications and published by M&M. A PC Engine Super CD-ROM² remake titled Aurora Quest Otaku no Seiza (オーロラクエスト おたくの星座 In Another World, lit. "Aurora Quest: Constellation of the Geeks in Another World"?) was released on December 10, 1993 was published by Pack-In-Video which featured updated graphics. Neither version was released outside of Japan.
The game combines science fiction and comedy. In it, an unnamed hero arrives in the city where women stole the rights of men. The player controls a man as he tries to free other men around the city. Otaku no Seiza features turn-based battles, similar to those of the Dragon Quest series.
Otaku no Seiza tells the story of Fuyuu City, a place built in space far in the future. Aurora, a group of five attractive and powerful women, control the city. Men in the city are treated poorly compared to women, until the protagonist finds himself in the middle of the city with amnesia. Outraged, the protagonist decides to defeat Aurora and gain rights for the oppressed men of the city.
Table of Contents
Otaku no Seiza: An Adventure in the Otaku Galaxy/Table of Contents