Jump to navigation
Jump to search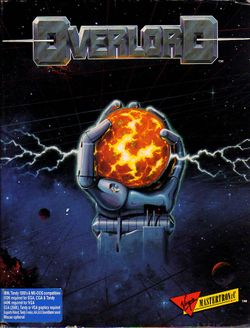 Neoseeker Related Pages
Links
For the flight simulation game, see Overlord (1994). For the action-adventure game, see Overlord (2007) or its series, Category:Overlord.
Overlord (known as Supremacy: Your Will Be Done in Europe) is a strategy video game designed by David Perry and Nick Bruty and produced by Probe Software for the Amiga, Atari ST, Commodore 64 and MS-DOS computers in 1990. The game was also ported to the Nintendo Entertainment System in 1993. The NES gamepack has an internal battery to retain game saves; the computer versions came on two disks.
The NES version was among the last titles released for the platform and is relatively rare. The NES version is also noted for having very few sounds or music (mainly just the title theme composed by Jeroen Tel).
The goal of Overlord is to create and protect a network of planetary colonies and defeat a computer adversary who is trying to do the same. There are four skill levels, each represented by an enemy race, and each featuring a progressively stronger opponent. The more advanced a system is, the more freedom a player has when purchasing spacecraft. Higher skill levels also result in different numbers of planets in each system.
Table of Contents