Jump to navigation
Jump to search
This is the first game in the Painkiller series. For other games in the series see the Painkiller category.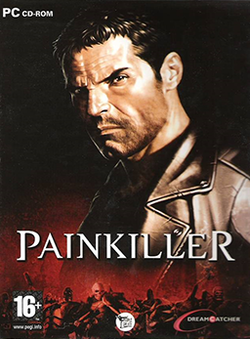 Neoseeker Related Pages
Links
Painkiller is a first-person shooter video game released on April 12, 2004. It was published by DreamCatcher Interactive and developed by Polish game studio People Can Fly. It attempts to replicate the 'old-school FPS' gameplay of Doom and Quake. It has 24 levels that take place within Purgatory and Hell, and are seemingly unconnected designs that include medieval castles, factories and lunatic asylums. Five of the levels are 'boss levels' with some of the largest FPS bosses when it was released.
It is notable for using the Havok physics engine extensively, with a large quantity of destroyable objects.
Table of Contents
Chapter 1
Chapter 2
Chapter 3
Chapter 4
Chapter 5
Appendices