Jump to navigation
Jump to search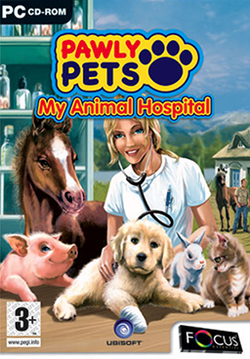 Pawly Pets: My Animal Hospital is a game for Windows about owning a vet's clinic and caring for animals. The goal is to collect money by healing ill pets and use it to buy feed, toys, medical instruments, expand and build enclosures and buy a horse treatment room.
The main character in this game is a female vet (you choose a name and date of birth, etc.) who lives in a cottage with a vet's clinic. The clinic is surrounded by enclosures (or at the beginning of the game, grassy spaces) where you can keep the poorly animals who need to be kept in overnight or for a number of days. Depending on how bad their problem is, they may just need to have their claws clipped or may need an operation. The minor cases (such as long claws or fleas) can be treated instantly and the pet can go home, whereas the more severe cases (such as fracture, or heart problems) will need to be treated over a matter of days.
While in your care the animals need to be cared for and kept in good shape or you face a bad reputation.
Table of Contents