Jump to navigation
Jump to search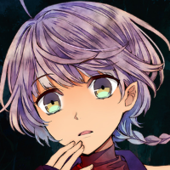 A young, mischievously charming Hellion.
In Arcadia, she wields her charm to get equipment and money from all sorts of people. After learning that Kazuha is the "Almighty," she sticks by Kazuha's side in attempt to use her to her advantage.
Libera is a Demon who's more than capable against the game's average enemies, using her skills as a Mage to strike them from a distance. However, she can usually be found hanging around the local tavern/inn of Twilight City (the Demons' hub), avoiding battle and waiting for someone else to clear the final dungeon despite the amount of time she's spent in the game. As a matter of fact, she doesn't appear to be interested in participating in special quests at all (which, upon being cleared, gives the gamers some valuable time in the real world), which raises question about her satisfaction with her life in the real world.
Good End
[
edit
]
Use knife
Use knife
I think this person's right...
I think I'd like to rest.
I was just surprised.
You should come too, Libera.
Play harp
I want us to fight together, Libera.
You're Libera, aren't you?
I was just surprised.
Wait. I still want to talk to you.
I could at least go to the entrance...
I'm not going back.
That's really sad.
Play harp
I'm sure you can do it, Riku.
Increase ally strength
Merry Bad End
[
edit
]
Select "History" on the main menu.
Select Quest 7 in Libera's route.
Set Almighty Level to 4 and Affection to 0.
Choose "Have confidence!"
Slow enemy movement