Jump to navigation
Jump to search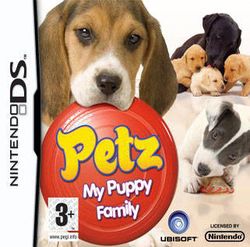 Petz: My Puppy Family, known as Petz: Dogz Pack in the US, is a game for the Nintendo DS and is one of the first games in the Petz series (along with Petz: My Kitten Family) where you are able to cross-breed your pets.
Puppies grow through three different stages; baby, child and adult. Your dogs grow as you give them love and care, and when at adult stage can even be breeded from.
Your dogs have three needs bars, two of which fill very quickly. You can feed and water your puppy, play with them, take them to the park and even do agility contests!
Table of Contents