Jump to navigation
Jump to search
It is fitting that in the third town, you are introduced to locations that contain three Kyonshi to defeat. Note that if you already possess items that you can obtain in this town, the locations where you can obtain them will contain no Kyonshi. The temple is, once again, in the center of town.
Town layout
[
edit
]
Encounter
Item
Item
Item
Item
Item
Temple
Training
Orb
Item
Orb
Orb
Sealed
Kyonshi
Sosekushi
Sosekushi
Zanshi
Zanshi
Kimenshi
Sosekushi
Sosekushi
Kimenshi
Zanshi
Sosekushi
Sosekushi
Zanshi
Kimenshi
Ryukyoshi
Sosekushi
Ryukyoshi
Zanshi
Sosekushi
Kimenshi
Sosekushi
Zanshi
Kimenshi
Kimenshi
Kimenshi
Boss
Items
6 Scrolls
Mirror
Sword
6 Scrolls
6 Scrolls
Jade orb
6 Scrolls
Jade Orb
Jade Orb
Training Hall
[
edit
]
You can learn two different techniques here, and each technique costs 18 scrolls. Since each scroll providing location gives you six scrolls per visit, you will have to visit such locations 6 times in order to obtain enough scrolls to learn every move.
Dragon Move: Enables you to move the fastest possible.
Mirage Walk: Allows you to crawl forward while squatting.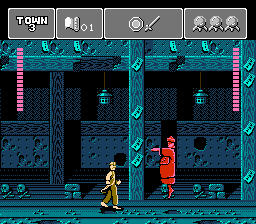 Before you reach the boss of this stage, you must first defeat two fairly slow and weak Kimenshi. When you reach the boss, you will see lightning flashes from within the room. While the effect is interesting, it has no bearing on the fight. Although lightning flashes around this Kyonshi, it will do no more damage to you than a typical boss Kyonshi. It has no special attack, and is therefore easier to defeat than the previous boss Kyonshi which threw knives at you. Take it down and move on to the next town.