Jump to navigation
Jump to search
Even the weaker Kyonshi start to put up more of a fight in this town. By now, you should have a good feeling for the timing of attacks, and the distance you want to stand from the Kyonshi. The moves in the training hall are expensive, and you'll have to save up if you want them both. In truth, the Wind Kick is not as practical as it may seem, so you won't miss much if you decided to learn only the Mirage Thrust, which is a move you should definitely learn.
Town layout
[
edit
]
Encounter
Training
Item
Item
Orb
Item
Item
Orb
Item
Temple
Orb
Item
Sealed
Kyonshi
Zanshi
Sosekushi
Zanshi
Zanshi
Sosekushi
Sosekushi
Zanshi
Sosekushi
Kimenshi
Sosekushi
Sosekushi
Zanshi
Zanshi
Kimenshi
Kimenshi
Sosekushi
Zanshi
Ryukyoshi
Sosekushi
Kimenshi
Kimenshi
Sosekushi
Kimenshi
Ryukyoshi
Sosekushi
Zanshi
Kimenshi
Zanshi
Kimenshi
Boss
Items
12 Scrolls
12 Scrolls
Jade Orb
12 Scrolls
Mirror
Jade orb
Sword
Jade Orb
Talisman
Training Hall
[
edit
]
You can learn two different techniques here, and each technique costs 50 scrolls. Since each scroll providing location gives you twelve scrolls per visit, you will have to visit such locations 9 times in order to obtain enough scrolls to learn every move.
Wind Kick: Enables you to perform a spinning kick in the air. To perform it, you must jump straight up, and you must not be pressing when you press . Not easy to hit ground enemies with, best with airborne opponents.
Mirage Thrust: Allows you perform a thrust punch while squatting. A very useful move.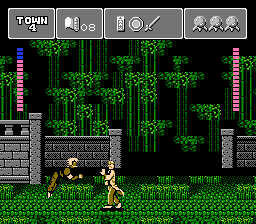 After defeating two Kyonshi on the way to the boss, you'll be in for a bit of a surprise. The boss of this stage is unlike any Kyonshi you have faced before. He is more like the female spirit you fought in the graveyard of Town 2 if you allowed you assistant to be captured by the blue flame. On top of being able to fly around the screen at will, it performs a flying punch attack that can knock you off your feet every time it connects. You have two choices when dealing with this boss. Either jump over it as he comes flying through, or try to stop him in his tracks with an attack. Once he has stopped moving, do your best to hit him as frequently as possible to keep him from resuming his attack against you. If you slow him down, you can control the fight and defeat him.