From StrategyWiki, the video game walkthrough and strategy guide wiki
In this town, you will begin to find four Kyonshi in certain locations. You'll need to maintain your health as much as possible if you want to survive to the end. There is no training hall in this town. However, there is one in the next town, and there is no opportunity to earn scrolls there. If you wish to learn the single move offered in the next town, be sure to save up at least 80 scrolls before you defeat the boss and leave for the next town.
Town layout
[
edit
]
Encounter
Item
Room
Item
Orb
Item
Item
Temple
Item
Orb
Orb
Orb
Sealed
Kyonshi
Sosekushi
Kimenshi
Kimenshi
Conshi
Zanshi
Zanshi
Zanshi
Sosekushi
Zanshi
Kimenshi
Kimenshi
Zanshi
Sosekushi
Zanshi
Zanshi
Zanshi
Sosekushi
Zanshi
Weekyonshi
Sosekushi
Sosekushi
Sosekushi
Sanshi
Zanshi
Zanshi
Zanshi
Kimenshi
Kimenshi
Sosekushi
Sosekushi
Sosekushi
Ryukyoshi
Sosekushi
Weekyonshi
Ryukyoshi
Boss
Items
Sword
15 Scrolls
Talisman
15 Scrolls
Mirror
Bell
Jade Orb
Jade Orb
Jade Orb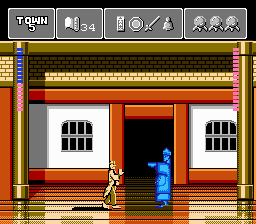 The boss Kyonshi of this town is certainly a tough one. He is so massive that whenever he lands on the floor, there's a good chance that you will get knocked off your feet. You can avoid this by jumping, or striking the boss just as he lands. However, if he manages to get close enough to you to hit you with his claws, you will be sent flying backward through the room until you hit one of the walls. This will force you to close the distance again, during which time you will be getting knocked off your feet as he approaches you. Find a good distance to stand from him, and try to knock him down every time he stands up so that you reduce his chances of hopping or hitting you.