Jump to navigation
Jump to search
This is an unusually short town, containing only half of the average number of buildings. It features a training hall and a temple, and then just three other locations, all of which contain Jade orbs, before you reach the sealed lair of the boss. There are no opportunities to earn any items here, which means there are no chances to earn any scrolls. If you wish to learn the powerful Jump Kick move, you will need to collect all the scrolls necessary from the previous town before you find yourself here. Otherwise, you are forced to leave it behind.
Town layout
[
edit
]
Encounter
Training
Temple
Orb
Orb
Orb
Sealed
Kyonshi
Zanshi
Sosekushi
Kimenshi
Kimenshi
Zanshi
Sosekushi
Zanshi
Weekyonshi
Sosekushi
Zanshi
Sosekushi
Kimenshi
Zanshi
Ryukyoshi
Weekyonshi
Boss
Items
Jade orb
Jade Orb
Jade Orb
Training Hall
[
edit
]
You can only learn one techniques here, and it costs 80 scrolls. There are no opportunities to earn scrolls in this town, so in order to purchase this move, you must bring enough scrolls with you from the previous town.
Jump Kick: If you press while running, you will fly forward with your feet ahead of you, performing a deadly kick. You can get hurt using this attack if it ends before you clear a Kyoshi, so it's best to use it late.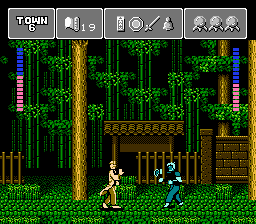 The boss Kyonshi of this town is a dangerous foe that wields an ax. However, this Kyonshi walks around on the ground just as you do, which makes his movements a lot more predictable than a typical Kyonshi. When the boss gets within striking distance, it swings its ax forward in an effort to strike you. The best strategy is to let this boss approach you, but stay just out of his reach. After he swings his ax, move in to kick him once or twice, and then get out of the way before he winds up again. You may even be able to knock him off his feet and reposition yourself before his next attack.