Jump to navigation
Jump to search
This is the second-to-last town, and the last town that contains a Training hall. Other than the temple, the hall, and the three orb buildings, you'll find buildings where you can obtain scrolls, but no other items. You need 90 scrolls for the final move, so once you learn it, focus on getting the orbs and facing the boss.
Town layout
[
edit
]
Encounter
Orb
Orb
Item
Item
Item
Temple
Training
Item
Item
Item
Orb
Sealed
Kyonshi
Kimenshi
Zanshi
Zanshi
Sosekushi
Sosekushi
Ryukyoshi
Zanshi
Sosekushi
Zanshi
Kimenshi
Weekyonshi
Sosekushi
Zanshi
Zanshi
Sosekushi
Sosekushi
Sosekushi
Zanshi
Zanshi
Sosekushi
Kimenshi
Weekyonshi
Sosekushi
Sosekushi
Sosekushi
Zanshi
Zanshi
Zanshi
Sosekushi
Zanshi
Sosekushi
Sosekushi
Kimenshi
Weekyonshi
Kimenshi
Zanshi
Sosekushi
Sosekushi
Zanshi
Ryukyoshi
Sosekushi
Kimenshi
Weekyonshi
Weekyonshi
Boss
Items
Jade orb
Jade orb
35 Scrolls
28 Scrolls
28 Scrolls
28 Scrolls
28 Scrolls
32 Scrolls
Jade orb
Training Hall
[
edit
]
You can learn one last new techniques here, and it costs 90 scrolls. Many buildings provide you with 28 scrolls, but two of them will give you 35. If you visit the 35 scroll house three times, you'll have enough to pay for the final move.
4 Thrust: Allows you perform a pair of punches, one high and one low, twice in rapid succession. Gives your punches the same power as the Side Kick, but at a closer range.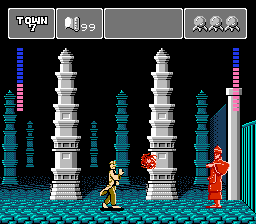 The boss of this town is a Kyonshi that is also a powerful wizard. He is capable of forming a giant fireball in his hands and sending it in your direction. The fireball can do immense damage, so you must avoid them at all costs. The Kyonshi itself happens to be tall, and not incredibly strong. After leaping over the first fireball that he sends toward you, it's possible to kneel at his feet and constantly pepper the boss with punches, assuming you learn Mirage Thrust. If you did not, you should still be able to get fairly close and kick him down before he has a chance to form another fireball. Attack him frequently to prevent him from making another fireball, and you should be able to defeat him relatively quickly.