From StrategyWiki, the video game walkthrough and strategy guide wiki
The last town is the smallest town. Just three buildings, all of which contain orbs, and the final boss. You won't even find a temple here, so collecting the orbs is your only chance to restore your health. Clear each building from left to right to challenge the final boss of the game.
Town layout
[
edit
]
Encounter
Orb
Orb
Orb
Sealed
Kyonshi
Zanshi
Zanshi
Zanshi
Zanshi
Kimenshi
Sosekushi
Zanshi
Sosekushi
Zanshi
Weekyonshi
Sosekushi
Sosekushi
Sosekushi
Sosekushi
Ryukyoshi
Kimenshi
Kimenshi
Ryukyoshi
Weekyonshi
Boss
Items
Jade orb
Jade orb
Jade orb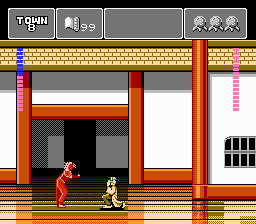 The final boss of the game is a demon woman who is capable of attacking you by whipping her hair forward, which launches a bullet that flies across the room. You can easily dodge this bullet by jumping. The bullet itself isn't all that strong, the fireballs from the previous boss were more dangerous. The boss can also teleport herself around the room at will, often appearing just in time to see her disappear to a new location. This boss has a lot of health so it takes a good number of hits to defeat. The problem is predicting where she will appear so that you can reach her and attack before she can whip her hair again. Be patient and strike when you can. When you defeat her, you will be treated to the game credits. Congratulations.