Jump to navigation
Jump to search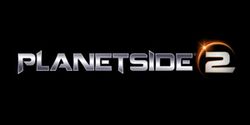 PlanetSide 2 is a MMOFPS, built around the concept of large scale combat. Gameplay-wise, it is similar to Call of Duty or Battlefield, but on a much larger scale. While standard FPS games support approximately twenty to thirty players, PlanetSide 2 features as many as a thousand players at once.
Essentially a reboot to the PlanetSide series, PlanetSide 2 chronicles the story of the planet Auraxis, and the three factions vying for control. Once a player selects his or her allegiance and other character elements, he or she is tasked with assisting comrades as they attempt to claim each of the three continents from the clutches of the other two factions. To assist players in this endeavour are the factions' vehicles, consisting of main battle tanks, logistic trucks known as Sunderers, fighter jets, and others.
As currently there is no method of altering any character parameters, including name, server, and allegiance, these must be chosen with care.
Table of Contents
Infantry Weapons
Terran Republic
Pistols (all classes except MAX)
Chain Gun (Heavy Assault)
Sniper Rifles (infiltrator)
Scout Rifles (infiltrator)
Submachine Guns (all except MAX)
Carbines (Light Assault, Engineer)
Assault Rifles (Medic)
Shotguns (all except Infiltrator and MAX)
Light Machine Guns (Heavy Assault)
Rocket launchers (Heavy Assault)
MAX Weapons
New Conglomerate
Pistols (all classes exept MAX)
Heavy Shotgun (Heavy Assault)
Sniper Rifles (Infiltrator)
Scout Rifles (infiltrator)
Submachine Guns (all except MAX)
Carbine (Light Assault, Engineer)
Assault Rifles (Medic)
Shotguns (all except Infiltrator and MAX)
Light Machine Guns (Heavy Assault)
Rocket Launchers (Heavy Assault)
MAX Weapons
Vanu Sovereignty
Pistols (all except MAX)
Chain Guns (Heavy Assault)
Sniper Rifles (infiltrator)
Scout Rifles (infiltrator)
Submachine Guns (all except MAX)
Carbines (Light Assault, Engineer)
Assault Rifles (Medic)
Shotguns (all except Infiltrator and MAX)
Light Machine Guns (Heavy Assault)
Rocket Launchers (Heavy Assault)
MAX Weapons
Vehicle Weapons
Flash
Sunderer
Lightning
TR Prowler
NC Vanguard
VS Magrider
TR Mosquito
NC Reaver
VS Scythe
Liberator
Galaxy