Jump to navigation
Jump to search
Enemies
[
edit
]
Enemy
Details
Description
Enemy
Details
Description
Triceras
300 points
3 hits
Tricerases move left and right along certain platforms. They don't pose a big threat as their movements are easy to predict.
Pratero
300 points
(500 points)
1 hit
Prateros advance slowly while flying up and down. The first hit knocks them out for 300 points. You can hit them again while they fall for an additional 500 points.
Tarantola
500 points
1 hit
Tarantolas are slow, and fairly easy to hit. Getting used to the path of the boomerang may prove challenging at first for beginners.
Spider Web
Spider webs will stop the flight of your boomerangs. If you are flying the time capsule, the capsule can become caught in the webs momentarily, but will not suffer any damage.
Jaws
500 points
1 hit
This shark likes to patrol the waters, so don't try to go swimming when it's near. When flying the time capsule, use the capsule bombs to take Jaws out.
Prontos
1000 points
7 hits
Prontos likes to spit rocks at you. Its head is the only weak point. Attack as close as you can to get many hits off rapidly.




Details
[
edit
]
A: Safe Room
B: Quiz

This green portal represents the entrance to a Safe room. You need one diamond to enter.

If you jump up to the left side of this log, you will be presented with a pop quiz. You will likely take this path to avoid Jaws.
C: Warp zone

You can enter a warp zone if you touch down on the left side of the ground in the picture to the left. While it takes you past a bit of danger, you will have to worry about the volcano eruption. You are presented with an opportunity to exit early on to collect the Super Shield, and this is recommended, but before you climb up the ladder, scroll the volcano off the screen so that the eruption stops.
D: Safe Room
E: Quiz

This safe room occurs just to the right of the Super Shield.

The quiz starts when you jump over the plant.
F: Volcano
G: Safe Room

Another Volcano erupts at this point. You'll have to be very careful, since there is no warp zone to help you sneak below the rocks. Scroll the volcano off the screen as quickly as possible, since getting hit by rocks causes a lot of damage.

A safe room can be found in the midst of the eruption. When you exit, the eruption will cease.
H: Quiz
I: Time Capsule

A quiz will begin on the left side of this log platform.

When you arrive at this point, the Time Capsule will arrive to pick you up, and you will begin the shooting portion of the stage.
J: Boss Fight

What may have appeared as a simple grassy background actually turns out to be a gigantic living creature called Mega-Zaurus. It sends clouds of steam which rise up from its snout. You will not be able to advance until you find a way to cease the steam. Firing the primary Time Capsule punch weapon will do no good. You can hit Mega-Zaurus' nostrils as many times as you like, and it will not stop. However, just two well placed bombs will knock it out completely. In order to drop those bombs, you will have to place yourself in the thick of the smoke, but if you fire the bombs off rapidly enough, you won't have to hang out long. When you proceed, don't miss the Continue mark that waits in mid-air before you reach land again and exit the capsule.
Enemies
[
edit
]
Enemy
Details
Description
Enemy
Details
Description
Gue the Caveman
300 points
3 hits
These prehistoric beings approach slow from right to left. On occasion, he will belch up a large rock.
Triceras
500 points
3 hit
Just as in the previous portion of Dinosaur Island, these heavy dinos bound toward Pocket Zaurus.
Moguras
300 points
1 hit
These mole like enemies remain stationary in the ground until they decide to dive back into the earth, leaving a hole behind. You will suffer some damage if you fall in the hole.
Gera
These strange cave dwelling frogs hang to the ceiling in pairs, and drop down to the ground to attack.
Huge Dinosaur Foot
Some large dino is stomping his foot into the ground. You cannot defeat or remove this foot. Some Botoranodon capsules lie near the feet. Don't risk getting hurt just to collect points. Only make the effort if it turns out to be a useful item.






Details
[
edit
]
A: Triceras
B & D: Quiz

There is one Triceras that runs towards you and gets stuck in a small pit. Try to defeat it before it falls in, because once it does, unless you have very good timing and throwing speed, the only way to remove it without taking damage is to use up a precious Flash attack.

During both downward drops through this stage, you can initiate a point earning quiz by stepping into the right alcove before the bottom.
C: Lightning Bolts

At this point in the stage, lightning bolts will begin to fall from the top of the screen. If you get hit by one of these bolts, it will initiate a battle known as a Commander fight. For more information about these fights, please refer to the Commander section of the guide. When proceeding through this area, jump carefully so as to avoid taking damage by falling in the lava.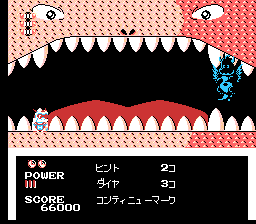 The boss of Dinosaur Island is General Black Zaurus. He will float about the room left and right, and occasionally teleport to a different location. He drops rocks infrequently to the ground below. His weak point is his stomach. He is rather weak, and it only take five shots to his stomach to knock him out. If you run just ahead of him and fire your boomerang upward rapidly, you can defeat him quite quickly. Remember that Flash has no effect in boss battles. You will earn 100 points for each successful hit, for a total of 500 points when the boss is defeated.