Jump to navigation
Jump to search
Enemies
[
edit
]
Enemy
Details
Description
Enemy
Details
Description
Vengeful Ghost
200 points
1 hit
These ghosts advance slowly, floating up and down. They are quite a large and weak target and are easy to defeat.
Monster Ravens
200 points
(500 points)
2 hits
Monster Ravens also advances slowly while flying up and down. Hitting them twice knocks them out for 200 points. You can hit them again while they fall for an additional 500 points.
Red Demon
200 points
2 hits
The red demon is the weakest of the three demon brothers. It wanders right and left, smashing its iron rod into the ground to create up to three sparks which arc forward. The sparks can be nullified by your boomerang.
Blue Demon
500 points
4 hits
A little bit stronger than the red demon, the blue demon's attack pattern is identical.
Yellow Demon
1000 points
6 hits
The yellow demon is the strongest of the three demon brothers, requiring six hits from a boomerang to defeat. Other than it's vitality, it behaves identically to the red and blue demons.
Kappa
100 points
2 hits
Kappas are little water demons that jump out from open pits while Pocket Zaurus is navigating the floating ledges above. If they grab a hold of Zaurus, they will try to drag him into the depths below, killing him instantly.



Details
[
edit
]
| A: Red Demon | B: Quiz |
| --- | --- |
| You will encounter your first demon attack early on. It is safest to attack from behind the safety of this tree. Watch out for the harmful sparks. | As you attempt to collect the bottlanodon capsule that is present here, you will suddenly be engaged in a pop quiz. |
| C: Yellow Demon | D: River |
| The yellow demon is the strongest enemy in this area. Try to land on the very edge of the ground after the water, and advance while firing rapidly to defeat it quickly. If you get inside and close to him fast enough, you'll probably avoid getting hit by the showering sparks. It is far easier to accomplish this as Super-Zaurus, but it is not impossible without it. A Monster Raven may also appear at the same time, so use a Flash if you have more than one in reserve. | In order to safely cross the expansive river, you'll have to jump from the very high tree branch. Just beyond the river is a blue demon. The demon's sparks can't reach the highest portion of the trees, so it's best to cross over to the right side and drop back down to attack the demon. |
| E: Blue Demon | F: Commander |
| After you pass the first section which contains the leaping water imp Kappas, you will encounter another blue demon. Drop down to the ground and attack him from behind the tree. | The lightning bolts signify another chance to do battle with one of the Commanders. |
| G: Safe Room | H: Safe Room |
| If you have plenty of diamonds, you can enter a safe room here by hopping slightly off the ground. Watch out for the nearby demon to the right. | The safe room in this section is a little unusual. It actually leads to an underground chasm. Inside, you will be presented with a quiz when you reach this section on the way down. Shortly after, you will find a 1-up. After you collect it, you must go right, and then climb back up to the top. |
Enemies
[
edit
]
Enemy
Details
Description
Enemy
Details
Description
Mad
300 points
2 hits
The Mads will drive you mad with their unfortunate ability to duck below nearly every boomerang that you throw. They also throw spears, which can be nullified by your boomerang. It will take special timing in order to trick them, but it's a better use of time to ignore them entirely.
Halloween
300 points
3 hit
These Jack-o-lanterns like to spit seeds at Pocket Zaurus. The seeds can be stopped by a boomerang. Their small size makes them difficult to defeat.
Broom
300 points
2 hit
While sweeping up the area, these brooms can fire bullets at Pocket Zaurus, but the bullets can be stopped with a boomerang.
Surprise Box
200 points
3 hit
Surprise Boxes generate more Brooms if they are left alone. They are stationary and easy to defeat.
Garu
1000 points
5 hit
The animated bones of Garu serve as a mini-boss of sorts. He is only vulnerable in the head, and must be shot there five times to be defeated. If he is hit anywhere else, he will not take damage. When he is defeated, the skull and his bones go flying, and you may still be hurt by them.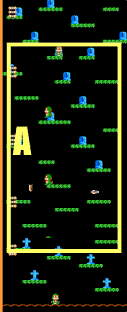 Details
[
edit
]
| A: Which item? | B: First enemy |
| --- | --- |
| Only the platforms near the top and bottom are real platforms that Pocket Zaurus can stand on. The platforms in the middle are illusions and he will fall right through them. On the way through the middle portion, you will find a Super Shield and a Continue mark, but due to the nature of the platforms, you can only collect one of them. The red dots on the map to the left indicate platforms that can be stood upon. | The first enemy is a Mad, which is capable of ducking under your boomerangs. Shortly thereafter, you will encounter a Halloween. If you have enough Flash attacks in reserve, use one to remove them both. |
| C: Safe Room | D: Quiz |
| Jump into this crack along the wall to discover a Safe room. | If you walk along the top of the structure, you will be presented with a quiz. |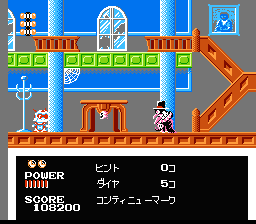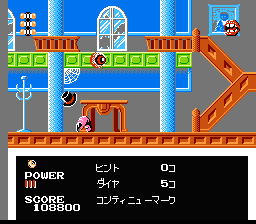 The boss of Haunted World is Devil King Berial. Of the middle three stage bosses, Berial is probably the easiest to defeat. He has two forms. In his first form, he walks left and right firing projectiles at you which can be nullified by your boomerangs. He takes three hits to knock down, and each hit is worth 100 points for a total of 300. After he in knocked down, his second form breaks up into four pieces; a hat which floats about the room, a finger which strolls along the floor, a mouth which repeatedly teleports, and an eyeball which hops along the ground. To defeat Berial, each part must be destroyed in a specific order. The order is the hat, then the finger, then the mouth, and finally the eyeball. Attacking the wrong part will have no effect. The correct parts can be destroyed with one hit for 200 points each, totaling 800 points.