Jump to navigation
Jump to search

Four Island is home to Lorelei, the powerful Elite Four Master. It seems that she has come back home, but she is nowhere to be found. Perhaps the cave northeast of the town holds some answers...
Poke Mart
Ultra Ball
1200
Revive
1500
Full Restore
3000
Max Potion
2500
Ice Heal
250
Full Heal
500
Escape Rope
550
Max Repel
700
Four Island
[
edit
]
Four Island is the smallest area you can explore at the Sevii Islands, as there are no roads to explore. Despite this, Four Island still manages to hold great surprises for you. The famous Icefall Cave is here, northwest of the town. The villagers inform you that this is Lorelei's hometown, but that she went inside Icefall Cave.
Once you are done exploring the town, Surf inside the cave and try to find Lorelei.
Four Island Town
[
edit
]
The south house is home to a Braggart, who will award you stickers to put in your Trainer Card according to what accomplishments you've achieved in the game. He will award you a sticker for: (1) beating the Elite Four; (2) hatching Pokemon Eggs; or (3) winning Link battles. You'll get a sticker the first time you accomplish any one of these, but earning further stickers is not recommended, as it requires you to repeat these accomplishments dozens of times.
A Move Tutor lives in one of the houses here, and will offer to teach your Pokemon Body Slam. In addition, Lorelei's home is also here. Her collection of Poke Dolls just keeps growing, and is worth a look.
If you explore the island a bit, you'll find a Star Piece behind a breakable rock, and a Stardust just south of the cave. In addition, the beach also has a hidden Ultra Ball and a hidden Pearl.
Daycare Center
[
edit
]
North of the town lies the Daycare Center. While this Daycare Center will also level up your Pokemon, like the Kanto version, this Daycare has an important additional function.
The Daycare center will allow you to store two Pokemon at the same time, and thus, under the right circumstances it may just be possible your Pokemon may mate and create a Pokemon Egg!!! Check the Breeding page for more information on this optional, but rewarding, side project.
Pokémon found
[
edit
]
New Pokemon
[
edit
]
#194 Wooper
#183 Marill

Wooper is a Water/Ground Pokemon exclusive to Fire Red. Wooper's learnset is decent, sporting moves such as Water Gun, Mud Shot and eventually Earthquake.

Once it evolves into Quagsire at Level 20, its stats grow to be quite balanced, only lacking in speed.

Unfortunately, while its attack is pretty good (good news for its Ground moves), its Spc. Atk is nothing to get excited about, so it remains outclassed by Pokemon such as Blastoise or Lapras.

Marill is a Water Pokemon exclusive to Leaf Green. Marril's learnset is filled with great moves, including such as Double Edge, Rain Dance and eventually Hydro Pump.

Marill evolves into Azumarill at Level 18, increasing its HP, defensive and Spc. Def. stats to above average levels.

Despite holding strong moves, Marill and Azumarill's stats are instead much more appropriate to stalling than outright battling.

They are quite cute though.
Icefall Cave
[
edit
]
Entrance
[
edit
]
Once you're in Icefall Cave, surf across the water and go deeper. Ignore the waterfall for now, you'll be climbing it soon.
Inner Cave
[
edit
]
In this room, you'll find a puzzle with many blue ice tiles. They are just thin pieces of ice that crack the first time you step on them, and break the second time. This is a fairly easy puzzle, and both maps are pictured here to aid you. Follow the following steps to gather all the items:
1. Go past the initial ice tile, and walk on the tiles in the right to reach the Ultra Ball.
2. Walk over to the north area, and fall from the northernmost tile.
3. Climb up the stairs and then fall from the nearest tile to the stairs.
4. Skate down and right to reach the Nevermeltice, then skate left and up, and climb the stairs again.
5. This time, fall from the farthest tile to the stairs.
6. Skate up, right, down, left and down to reach the next set of stairs, but don't forget to claim the Full Restore before you climb.
7. Get the HM 07 Waterfall !!!
After getting the HM, teach it to a Pokémon, go back to the entrance and go up the Waterfall, then climb the stairs to reach the next cave.
Back Cave
[
edit
]
You'll find Lorelei defending the Pokémon of this cave from Team Rocket. She'll then drag you into the argument, and you'll have to fight one of the Rocket Members.
After the battle, Lorelei will force Team Rocket to talk. The Member tells you that they've kept the stolen Pokémon in the Rocket Warehouse in Five Island. However, he also says he doubts you'll ever be able to enter...
Stay around a while if you wish. This cave is very well known to be the only place where Lapras may be caught in the wild, so if you haven't been raising the one gifted to you back in Silph Co., this is the perfect chance to start.
New Pokemon
[
edit
]
#220 Swinub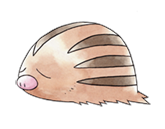 The cute piggy Swinub is a Ground/Ice Pokemon that has pitiful stats, but once evolved into Piloswine at Level 33, he'll gain a good boost to its HP, Attack and Defense stats.

His learnset contains no Ground moves, but will eventually learn Powder Snow, Take Down and even Blizzard! It's also capable of learning some good TM's.

Unfortunately, while Piloswine may serve well as a thick wall, and can attack well if you teach it some Ground TM's, its Spc. Atk. is not too great, so it will not work in the Ice department as well as a Lapras or Cloyster.
#225 Delibird
#215 Sneasel

Delibird, exclusive to Fire Red, is quite the strange bird. It's only move is Present, which attacks with random power, and has even a chance to heal your opponent!

Delibird is quite able to learn some good TM's to supplement its pitiful moveset, such as Ice Beam or Fly.

However, its stats are lackluster at best, so it will probably not replace either your Flying or Ice members in your team any time soon.

Sneasel, exclusive to Leaf Green, is a Dark/Ice Pokemon that is particularly speedy, and with good attack stats. It does look pretty cool too.

Its learnset includes attacks such as Slash, Faint Attack and Icy Wind, and can supplement its moves with a great variety of TM's.

Unfortunately, while Sneasel is the first Dark Pokemon you've encountered, it will not work well either as a Dark or an Ice Pokemon, as its Spc. Atk. is beyond pitiful. Best leave Sneasel in your PC.
Searching for Team Rocket
[
edit
]
The Rocket Warehouse requires two passwords, and you only have one from eavesdropping on two previous Rockets at Mt. Ember.
Even if you head to Five Island now, you'll be denied access to the Warehouse, so head to Six Island instead. Perhaps you'll have better luck over there....