From StrategyWiki, the video game walkthrough and strategy guide wiki
Route 8 is another short road. It connects Saffron City with Lavender Town. The buildings used to house the Underground Path, which connected Route 8 with Route 7, but it's been closed.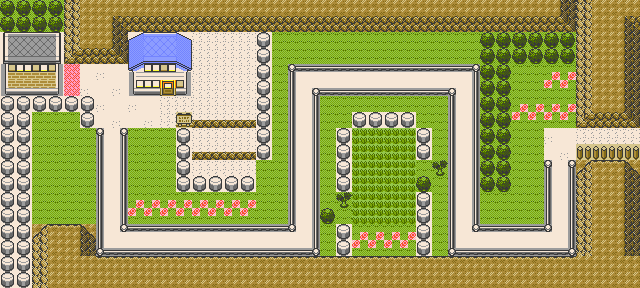 This walkthrough will take the long way to the Power Plant: Route 8 to Lavender Town, then the Rock Tunnel. If you plan to hunt in Route 8, you'll need a Pokémon with Cut. This is the only place to catch wild Kadabra, which start with Kinesis, a move evolved Kadabra never learn. Watch out for the trainers; The Kanto Pokémon Association is made up of a bunch of thugs that attack with mostly Poison- or Fire-type Pokémon.
Trainers & Items
[
edit
]
Trainers

| | |
| --- | --- |
| | Biker Dwayne: 960 |
| | Biker Harris: 1088 |
| | Biker Zeke: 1024 |

Super Nerd Sam: 1088

Super Nerd Tom: 1024
Items
Pokémon found
[
edit
]
Route 8 encounters
Gold
Silver
Crystal
Morn
Day
Night
Morn
Day
Night
Morn
Day
Night
Meowth
N/A
N/A
N/A
30%
30%
30%
N/A
N/A
30%
Abra
20%
20%
20%
20%
20%
20%
20%
20%
20%
Kadabra
5%
5%
5%
5%
5%
5%
5%
5%
5%
Jigglypuff
N/A
N/A
N/A
N/A
N/A
N/A
5%
5%
5%
Pidgeotto
65%
65%
N/A
35%
35%
N/A
30%
30%
N/A
Snubbull
N/A
N/A
N/A
N/A
N/A
N/A
30%
30%
N/A
Growlithe
10%
10%
5%
N/A
N/A
N/A
10%
10%
N/A
Vulpix
N/A
N/A
N/A
10%
10%
5%
N/A
N/A
N/A
Noctowl
N/A
N/A
40%
N/A
N/A
10%
N/A
N/A
30%
Haunter
N/A
N/A
30%
N/A
N/A
30%
N/A
N/A
10%